I know I took a break from the Ingredient of the Week but I promise that I am back on track! This week's ingredient is chicken.
One of my goals with this blog is to build on my cooking skills. Right now I am average, slightly above. I lack a lot of creative thinking in the kitchen and I am not that comfortable with anything above simple cooking. I hope that as this blog grows, so will my creativity in the kitchen. I hope to one day look back at these simple dishes and beam with pride with how much I have accomplished.
So I like to think of this early part of the blog as the foundation of my skills. These dishes are the ones I know how to make now and make with confidence. I hope they will provide for a great launching pad as I continue my experiments in the kitchen.
And now on to two simple chicken dishes.
We eat chicken at least once a week and if there is anything that can become boring and bland over time it is chicken. It is such a same too since I love chicken. I would raise chickens if I could, but those little bastards are mean when they are alive so I prefer to deal with them on my cutting board only.

Simple Chicken Pot Pie
Ingredients:
1 can refrigerated biscuits (yes, don't judge. The Good Husband hasn't been broken from his pre-made biscuit addiction)
1 large onion, chopped (I use onion powder, about 3 teaspoons)
3 stalks celery (leaves too), chopped
3 large carrots, chopped
2 large potatoes, cubed (I didn't have any potatoes this time and I was a little sad about that)
1 cup frozen corn
1 cup frozen green beans
1 cup frozen peas
2 tablespoons butter or margarine
1/3 cup all-purpose flour
1 teaspoon poultry seasoning
1/4 teaspoon salt
1/4 teaspoon black pepper
1 1/2 cups chicken broth
1 cup milk
2 1/2 cups chopped, cooked chicken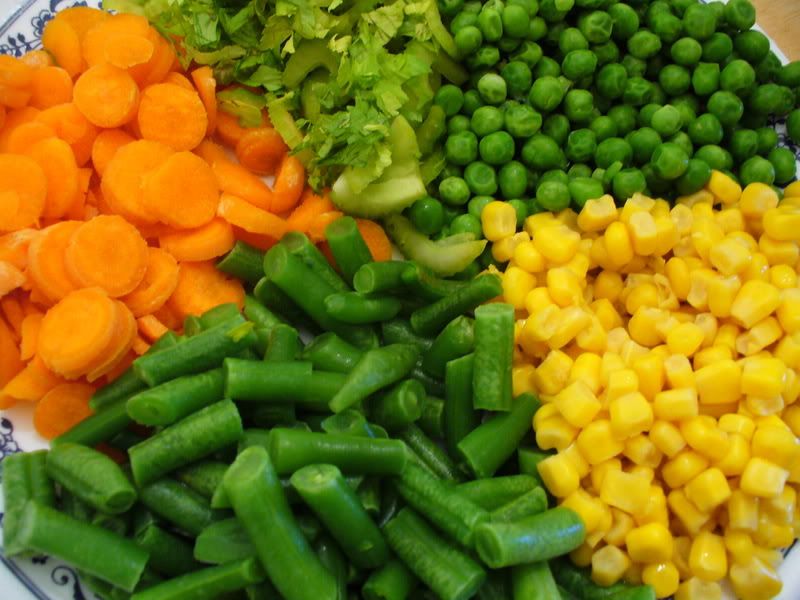 Directions:
~In a large saucepan cook onion (if using fresh), celery, carrots and potatoes in butter over medium heat for 4 to 5 minutes or until vegetables are tender. Stir in the flour, poultry seasoning, salt, and pepper, turning to coat the veggies. Now is the time to add the onion powder if you are using it. Add the chicken broth and the milk all at once. Cook and stir until thickened and bubbly. Stir in chicken, peas, green beans and peas. Pour into a 2-quart rectangular baking dish.

~Arrange biscuits over the top of the dish.

~Bake, uncovered, in a 400 degree F oven for 30 to 35 minutes or until crust is golden brown.
~Let stand for 20 minutes before serving.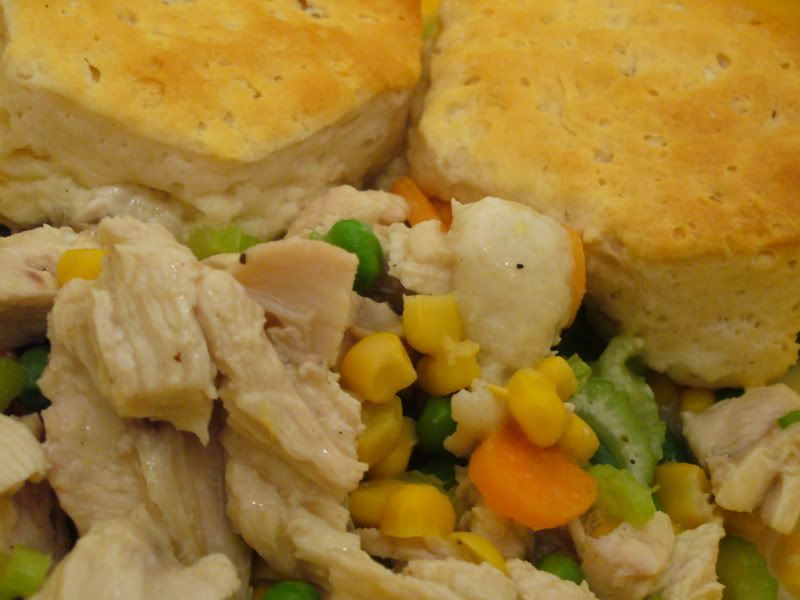 This chicken pot pie recipe is loaded with veggies so it makes for a hearty meal. I also like to add a bit more flour to the sauce so that it will thicken up nicely. I hate watery gravies and sauces.
recipe modified from: Better Homes and Gardens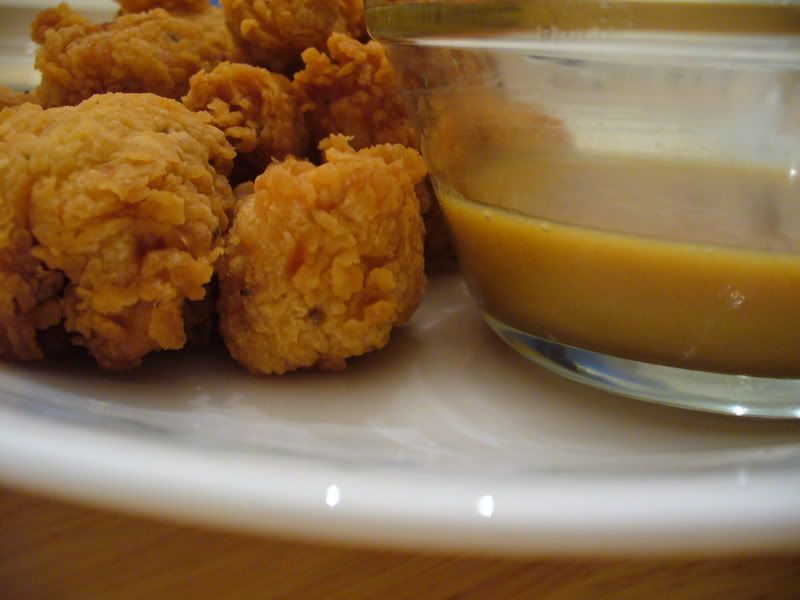 Popcorn Chicken

Ingredients:
2-3 cups flour
1 egg plus 1 egg yolk
1/2 cup milk
2 lbs chicken breasts (I use boneless, skinless for this)
salt
pepper
seasoned salt
canola oil
Directions:
~Cut chicken into bite size
pieces
. Sprinkle with salt, pepper and seasoned salt to taste. You can also add other seasonings such as rosemary, thyme or
poultry
seasoning.
~Combine the whole egg and egg yolk with the milk and mix to combine. Add the chicken and allow it to soak for 10-15 minutes.
~Shake off excess liquid and add the chicken, in small batches, to the flour, tossing to coat. (I use 2 large bowls for this).
~Drop chicken into hot (375 degree oil) and fry for 6 minutes per small batch. I like to use my deep fryer for this since I am scared to death to actually use a big pot of hot oil on the stove.
~Serve with honey mustard, hot sauce, blue cheese dressing, ranch dressing, BBQ sauce or ketchup.
recipe by: The Good Wife