I love fall. It is my favorite season. I originally wanted to get married in the fall - October 16, actually - but it didn't work out that way. I love everything there is about fall - the colors, the smells, the cool temperatures. I love going to the apple orchard, going to the pumpkin patch, drinking apple cider and sitting out by a fire on the cool nights.
I also get incredibly giddy at the thought of making sugar cookies. I used to make sugar cookies for Christmas each year with my maternal grandmother and my cousin. But the last time we made them, my cousin and I got into a flour fight and Nana had had enough.
A few years ago, I saw these mini fall cookie cutters in the craft store and had to have them. This is the first year that I actually used them since my confidence in cookie making has grow tremendously. I was every excited that I would have all day Saturday to myself to make and decorate these cookies. The Good Husband was off, like most other Good Husbands in the fall, setting up a deer stand to hunt. I stay out of those manly things and focus on my time in the kitchen.
I must say that I am so incredibly pleased with these cookies that I am almost ashamed. They just turned out so pretty and I cannot help but beam with pride. They all look so beautiful and I remember how much I love the color orange. Not in that annoying Rachel Ray everything-I-own-is-orange, but that ah-I-see-how-beautiful-a-little-orange-is-every-once-and-a-while.
My small shout-out to my favorite holiday, Halloween
Pumpkins Aspen and Maple leaves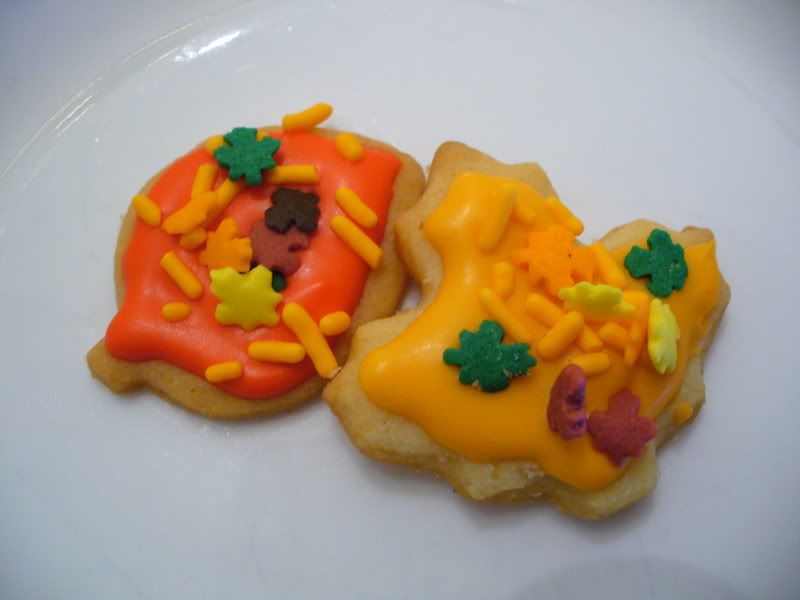 Apple Canadian leaves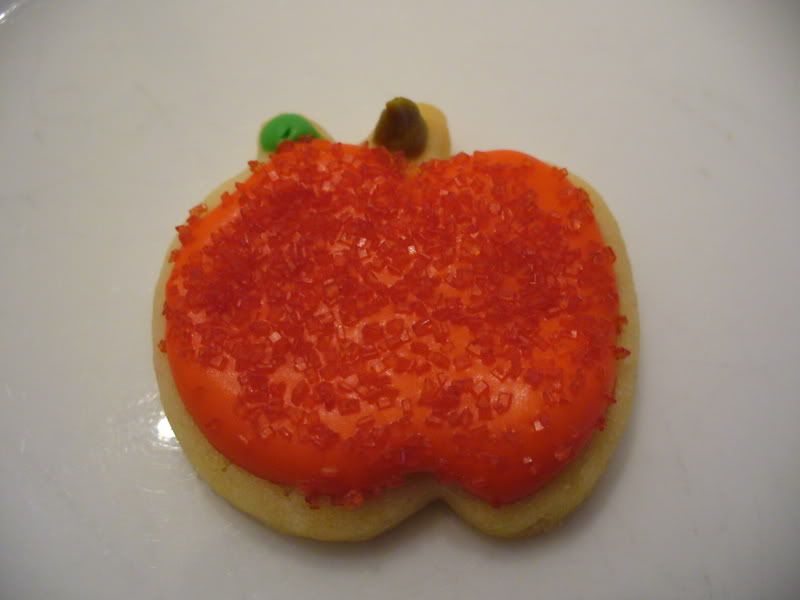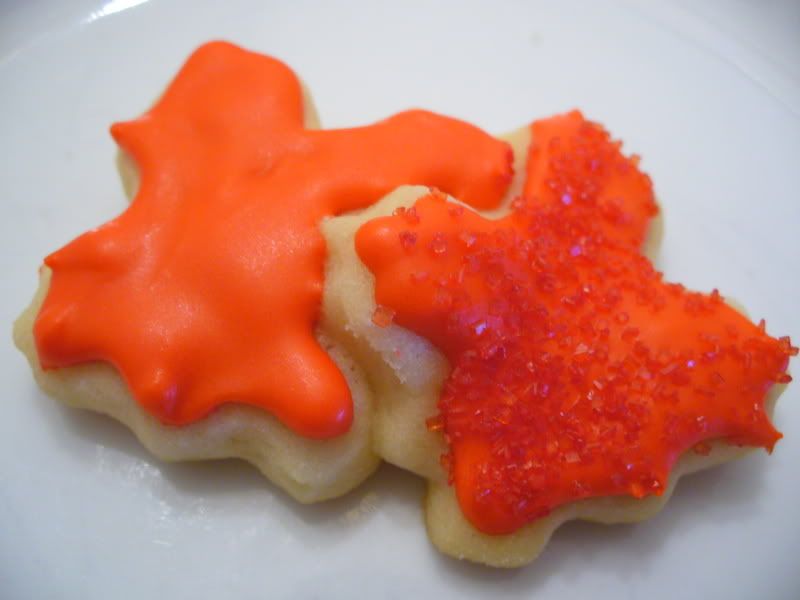 More Aspen leaves Acorn and Oak leaves

This was the first time that I used Royal Icing to decorate the cookies. I think I made the icing a little thick but they turned out fine.
I used Martha Stewart's Signature Sugar Cookie recipe and Royal Icing recipe using egg whites.
Ingredients:
2 cups all-purpose flour
1/4 teaspoon salt
1/2 teaspoon baking powder
1/2 cup (1 stick) unsalted butter
1 cup sugar
1 large egg, lightly beaten
2 tablespoons brandy, or milk
1/2 teaspoon pure vanilla extract
Royal Icing for Sugar Cookies, see below
Directions:
~Whisk together flour, salt, and baking powder in a medium bowl. In the bowl of an electric mixer fitted with the paddle attachment, cream butter and sugar; add dry ingredients, and mix until incorporated. With mixer running, add egg, brandy (or milk), and vanilla; mix until incorporated.
~Transfer dough to a work surface. Shape into 2 discs, cover with plastic wrap, and refrigerate for at least 1 hour.
~Preheat oven to 350 degrees. Line baking sheets with nonstick baking mats or parchment paper; set aside.
~On a lightly floured work surface, roll out dough to 1/8-inch thickness. Cut into desired shapes, and transfer to prepared baking sheets, leaving an inch in between. Leftover dough can be rolled and cut once more. Bake until lightly golden, about 10 minutes; do not allow to brown. Transfer to wire racks to cool.
~Decorate with Royal Icing and assorted sprinkles, optional.
Royal Icing
Ingredients:
1 box confectioners' sugar (1 pound)
2 large egg whites
(1 tablespoon vanilla extract) - I added this for flavor and to thin the icing

Directions:
~In the bowl of an electric mixer fitted with the paddle attachment, combine sugar and egg whites. Mixing on low speed, add a scant 1/2 cup water and the vanilla extract. For a thinner consistency, usually used for flooding, add more water. A thicker consistency is generally used for outlining and adding details. Mix until icing holds a ribbonlike trail on the surface of the mixture for 5 seconds when you raise the paddle.
NOTE: I forgot to add the water to the Royal Icing and it is the reason the icing was too thick. I also didn't have a piping and a flood icing for each color since I only had one bag I used to pipe the icing. If you think your icing is too thick then you can add some water or more extract. If it looks too thin, you can add more powdered sugar. It is really a estimate of the amount of ingredients you need to make a good consistency.
I also just used a Ziplock bag with the corner cut off instead of a pastry bag to do the piping. Very Aunt Sandy of me, but I don't own a pastry bag, yet. I also used gel food coloring for the first time to make the icing. It worked wonderfully except that I put a little too much red gel in that batch and it tasted a little off. Other than that I had no problems
recipes by: Martha Stewart