As I said in my
previous post
, I was looking for recipes that contained lime and/or cilantro. This is another Rachel Ray recipe I found using both ingredients. I normally have a love/hate relationship with soup. There are only a few that I actually like and I usually prefer (unless it is a cream soup) for soup to be thick.
I also modified the way I made this recipe by a lot. I just read the directions and then almost did the opposite, but I will explain that more below. The original recipe also didn't call for corn, but I thought it would be a great addition. I would have also added some black beans, had I had any.
The original recipe also called for a pile of crushed chips to be added to the bottom of the bowl and then the soup poured on top. I found that the chips got way to soggy for my liking. On second serving of this I just placed some chips on top and dipped additonal chips in the broth. I liked it much better that.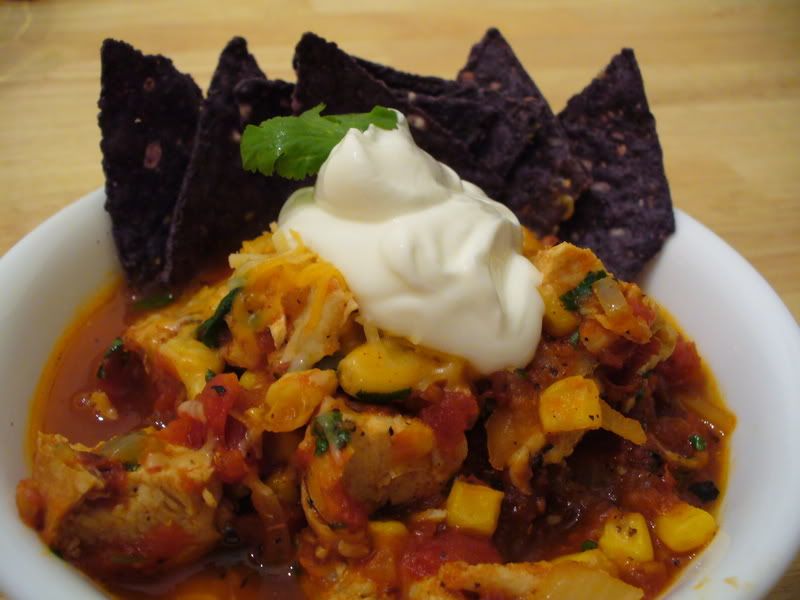 Ingredients:
3 cups chicken stock
1 pound chicken tenders
1 bay leaf, fresh if available
1 tablespoon extra-virgin olive oil
4 slices thick, smoky center cut bacon, chopped
1 onion, finely chopped
4 cloves garlic, chopped
2 chipotles in adobo, chopped, plus 2 tablespoons sauce
1 (28-ounce) can crushed fire roasted tomatoes
Salt
1 can corn, drained
1/2 teaspoon cumin
1/4 teaspoon red pepper flake
4 cups lightly crushed corn tortilla chips
2 cups shredded fresh smoked mozzarella or smoked sharp white Cheddar
1 lime, cut into wedges
1/2 red onion, chopped
Freshly chopped cilantro leaves, for garnish
Directions:
~Bring broth to a simmer and add chicken tenders, poach 6 to 7 minutes with a bay leaf. While chicken poaches, heat extra-virgin olive oil in a medium soup pot or deep skillet over medium-high heat. Add bacon and cook until crisp then remove with slotted spoon. Drain off excess fat, leaving 2 to 3 tablespoons in the pan. Add onions and garlic to the skillet and cook 5 minutes then stir in chipotles and tomatoes.
(Since the purpose of this recipe is to deliver smokey flavors, I decided that I would sear the chicken on the outside, to get a nice caramelized color, before poaching them. The poaching time was less, but since I seared them, the overall cooking time was the same. I followed the original directions in cooking the bacon and the onions.)
~Remove chicken from stock, dice and then add to soup. Pass stock through a strainer then add to the soup.
(I also added cumin and red pepper flake to the soup to give it more of a kick. I also added the cilantro directly into the soup, as well as the juice of 2 limes. I added a can of corn kernels, drained. Mexi-corn and black beans would also be a good addition and would add more heft to the soup. The soup also looked a tad too thick, even for me, so I added one chicken bullion cube and one cup of water.)
~Place a pile of crushed tortilla chips in the bottom of each soup bowl. Cover liberally with smoked cheese then ladle the hot soup down over the top. Serve with lime, raw onions and cilantro at table to finish the soup.
recipe by:
Rachel Ray