I have to give major credit to The Good Husband for finding this recipe. This by far is one of our favorite dishes. I have made it for family gatherings and it is by far the most requested recipe. I have made it so many times that I actually have the recipe memorized, which is not a small feat for me.
I don't think this is a traditional enchilada, since it is cream based and not a red sauce. Also, the cream cheese in the recipe gives some pause, but trust me, it is good. Very good. TGH and I have made this several ways. We have made it with flank steak instead of chicken, with corn tortillas instead of flour and one time, in the dark days of a low carb diet, even without the tortillas. Both times it was good.
But chicken is the original recipe and by far our favorite preparation.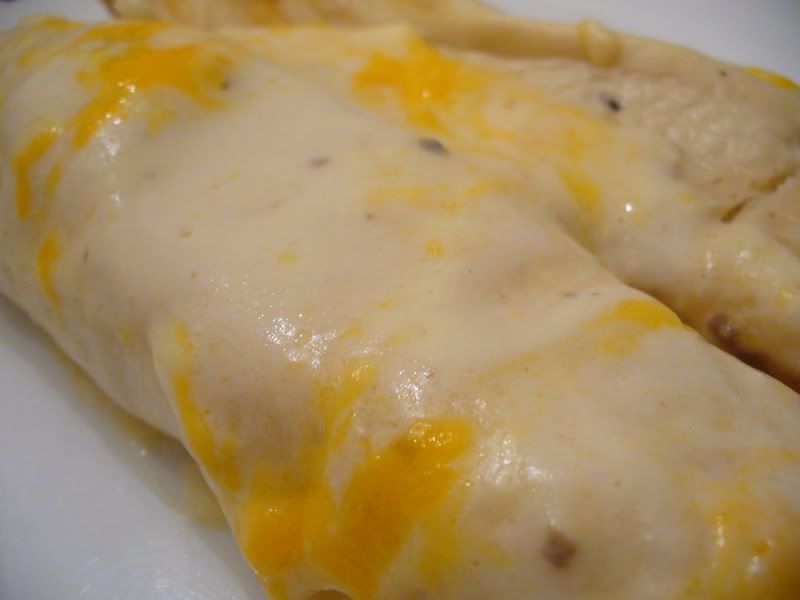 Ingredients:
1/4 cup chopped onion
2 tablespoons butter
1 3-ounce package cream cheese, softened
1 tablespoon milk
1/4 teaspoon ground cumin
2 cups chopped cooked chicken
12 7-inch flour tortillas
1 10.75-ounce can reduced-fat condensed cream of chicken soup
1 8-ounce carton light dairy sour cream
1 cup milk
2 cups shredded Monterey Jack cheese
Directions
:
~In a medium skillet cook the onion and butter over medium heat until onion is tender. Remove from heat.
~In a medium bowl stir together cream cheese, the 1 tablespoon milk and the cumin; add onions and chicken and stir until combined. Spoon about 3 tablespoons of the chicken mixture onto each tortilla near an edge; roll up. Place filled tortillas, seam side down, in a greased 3-quart rectangular baking dish. Set aside.
~For sauce, in a medium bowl combine the soup, sour cream, and the 1 cup milk. Pour evenly over the tortillas in the baking dish. Cover with foil. Bake, uncovered, in a 350 degree oven about 35 minutes or until heated through. Remove foil. Sprinkle with cheese and cook uncovered for 10 minutes more.
recipe modified from: Better Homes and Gardens