This is the first of several posts about the food I made for Christmas this year. I know that it is a little late, but having a large extended family located in different cities and a slow, crappy computer at home will slow a girl down.
I wanted to do something sweet and I originally had my eye set on making
Oreo Truffles
. I then learned that the OT have been done to death on food blogs and that my grandmother already made them. The next best thing was buckeyes. I found a great recipe on
Brown Eyed Baker's
blog.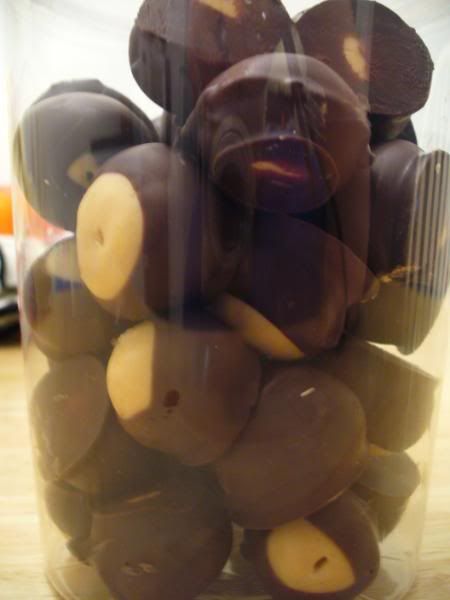 I decided that I would have The Good Sister-In-Law come over and help me make them, since it is nice for us to spend time together and since she has never cooked anything in her entire life, it would be a good experience for her.
The recipe is fairly easy to make it just takes a while. The shaping takes most of the time and if I didn't have TGS-I-L there, I get a feeling I would have hated rolling dozens of peanut butter balls.
I decided to go with the toothpick method to dip the balls. It was faster than using a dipping fork but I did run into the problem of some of the balls falling off the toothpick. The Good Husband insists that I made the balls too large, and therefore too heavy, but I didn't like the tiny ones he proposed we make.
Once the balls were chilled, the dipping part was actually quite easy and fast. But you do need a lot of room to make sure the buckeyes don't stick together. This recipe made about 8 dozen, so you will need 2 sheet pans, at least.
This recipe produced a rich but creamy peanut butter center with a smooth chocolate shell.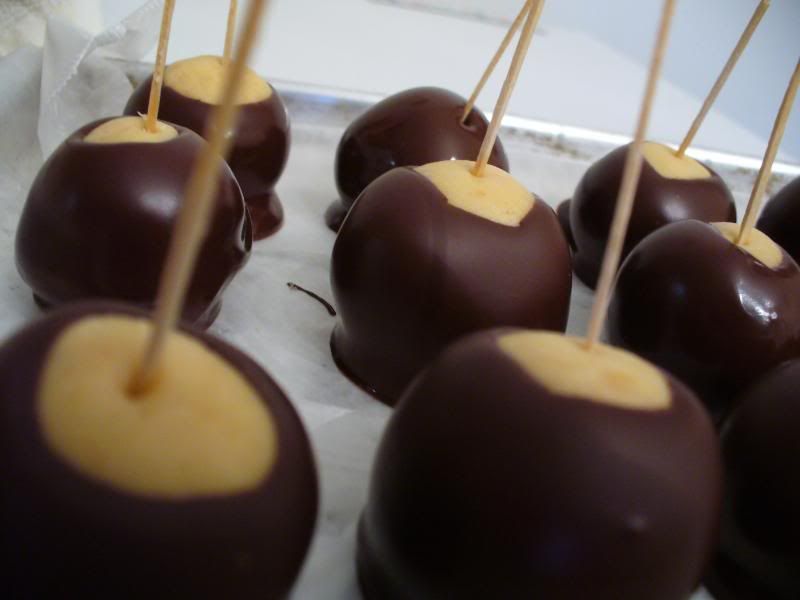 Ingredients:

1 ½ cups peanut butter
6 cups powdered sugar
1 cup (2 sticks) butter, softened
½ teaspoon vanilla extract
4 cups semisweet chocolate chips
¼ cup shortening
Directions:
~Line cookie sheet with wax paper. Mix together butter, peanut butter, sugar, and vanilla with a wooden spoon in a large bowl.
~Roll dough into 1-inch balls. Set them on prepared cookie sheet and insert toothpick into each ball. Chill in freezer until hard, approximately 30 minutes.
~Melt chocolate chips and shortening over medium-high heat. Remove the pan from heat.
(I used a double broiler)
Dip balls in chocolate and place back on cookie sheet. Refrigerate until chocolate is set, approximately 2 hours.
~Store in airtight container in refrigerator.
recipe by:
The Brown Eyed Baker