MMMMM. Bread.
Imagine me drooling like Homer Simpson and that is how I feel about bread. Any bread. I can't even attempt a low carb diet because of my bordering on unnatural love of bread. Once, a long time ago, I even worked at Panera Bread, a job I loathed, just for the free loaf of bread I got every month.
Bread is something new to me in the baking department. I really haven't tried it before and you can tell. My first attempt with a yeast bread was this
French Bread recipe
. This was my first go at white bread, or sandwich bread. It was also my first recipe out of Joy of Cooking, the cookbook I got for my birthday.
I used bread flour instead of all purpose flour and I think the texture was affected. The bread was slightly chewy. It wasn't fluffy like Wonder Bread and I didn't do a very good job rolling the loaf and sealing the seams.
But it did have a nice, slightly sweet flavor and it wasn't rock hard. Overall I think I did a B+ job but I will work on perfecting this.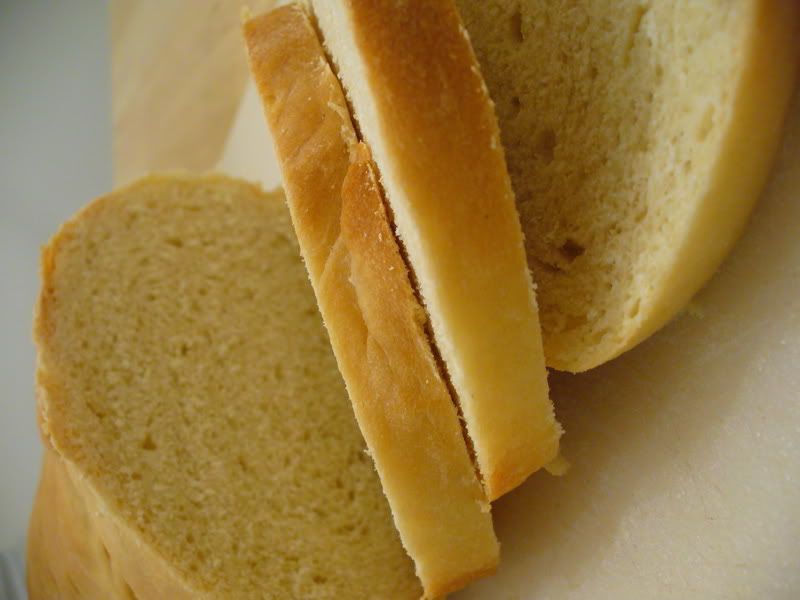 Ingredients:
1 cup milk
1 cup water
2 tablespoons sugar
1 tablespoon vegetable shortening
1 tablespoon butter
1 tablespoon salt
1/4 cup warm (105° to 115°F) water
1 package (2 1/4 teaspoons) active dry
6 to 6 1/2 cups all-purpose or bread flour

Directions:
~Combine in a small saucepan and heat until warm (105° to 115°F)the milk, water, sugar, shortening, butter and salt.

~Combine the water and yeast in a small bowl and let stand until the yeast is dissolved, about 5 minutes.

~Add the lukewarm milk mixture to the dissolved yeast. Stir in 3 cups of the flour and beat 1 minute, then stir or work in 3 more cups flour.

~Toss the dough onto a floured board and knead until it is smooth, elastic, and full of bubbles, gradually adding more flour until the dough no longer sticks to your hands.

~Place the dough in a greased bowl, turn the dough over once, and cover with a cloth. Let rise in a warm place (75° to 85°F) until doubled in bulk, at least 1 hour (I filled a large pan with hot water, placed it in the oven and then placed the bread in to allow it to raise).Punch down the dough and, if time permits, allow it to rise until doubled once more, then punch it down again (For this second rise, I allowed the bread to rise for one hour).

~Divide the dough in half, shape into 2 loaves, and place in greased 9 x 5-inch loaf pans. Brush with oil, then cover with a clean cloth and let rise again until almost doubled in bulk (Again, about one hour).
~Preheat the oven to 450°F. Bake the bread 10 minutes. Reduce the heat to 350°F and bake about 30 minutes longer. Bake until the crust is golden brown and the bottom sounds hollow when tapped, 595. Remove the loaves at once from the pans and cool completely on a rack.

NOTE: I used two glass loaf pans, so I reduced the heat to 325. I also only baked the bread at 450 for 5 minutes since I like a lighter brown crust.
recipe by: The Joy of Cooking