The season has changed and so has the Farmer's Market. Gone are the beautiful ears of sweet corn and the juicy
cantaloupe
, replaced by mums and
pumpkins
. The crowd has gotten smaller too. The bountiful summer harvest that lent itself so well to light, cool dinners has been replaced by products that lend themselves to hearty, warm meals.
I couldn't resist the homemade egg noodles of a first-time vendor. Until I can make my own, these noodles will be great in chicken and noodles. I also bought some Illinois wine. I had wanted some
Chardonnay
but they were all out. Since I am not the biggest fan of reds, I thought the Blush would be a good choice.
With the exception of the noodles, my haul provided for a great simple supper. I made
Crash Hot Potatoes
by the Pioneer Woman, green beans and
Parmesan
Crusted Chicken (recipe to follow), followed by a nice glass of wine. The wine turned out to be a good choice. It was nice and mild but not too sweet with nice undertones of berries.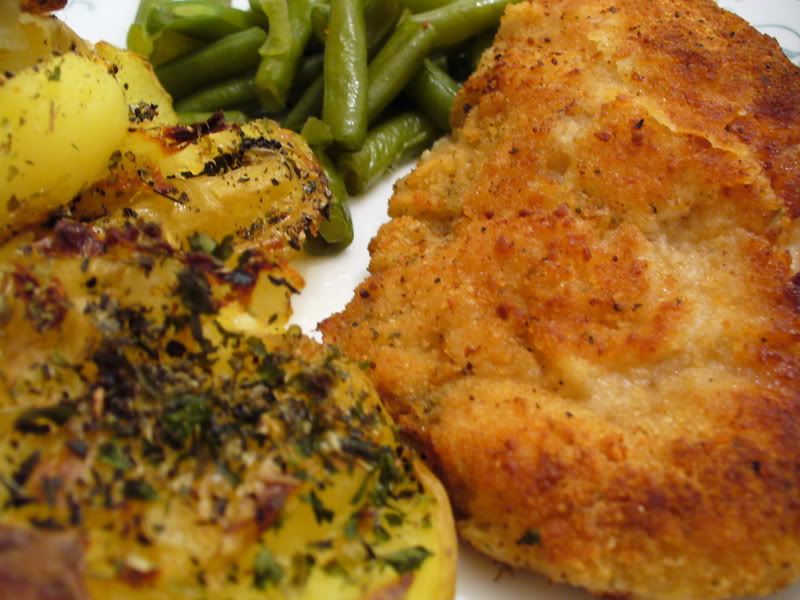 Parmesan

Crusted ChickenIngredients:
2 chicken breasts
1 cup of flour
1 egg
1/4 cup of milk
1 cup of Italian seasoned bread crumbs
1/2 cup
Parmesan
cheese
Directions:
~Form an assembly line to bread the chicken with three large, shallow bowls. In the first bowl, place the flour and add salt and pepper to taste. In the middle bowl, add the egg and milk and whisk to combine. In the last bowl, add the bread crumbs and the cheese.
~To bread the chicken, dredge it in the flour first, making sure you shake off the excess flour, but also making sure all sides are covered. Next, pass the chicken through the egg mixture, making sure all sides are covered. Hold the chicken over the bowl to allow the excess egg mixture to fall off.
Finally
place the chicken in the bowl with the bread crumbs and cheese. Press the chicken lightly into the bread crumbs and turn it to coat fully.
~In a large non-stick skillet over medium high heat, heat 2 tablespoons of oil and gently place the chicken in the pan. Cook for 3-4 minutes per side or until each side is a nice golden brown. Turn the heat down to
medium
and allow the chicken to cook for another 5 minutes per side or until the chicken is cooked through.
~Serve warm. You can also top with a drizzle of extra virgin olive oil and some
Parmesan
cheese.
recipe by: The Good Wife