One of the things on my
100 Foods I Want to Make
is potato skins. This dish was no doubt made popular by all the
casual dining chain restaurants
that have taken the place of home cooked food in Middle America. I can maybe see some housewife in the 50s creating this dish out of boredom with having mashed potatoes over and over again, but I doubt it. I get a feeling that this dish might have been popular at bars, where the skins of the potatoes would have been left over from making french fries. But I am no food anthropologist, so that is just my uneducated guess.
The Good Husband loves 'tater skins and it is one of the only dishes where he will eat sour cream (he doesn't know I put sour cream in the
mashed potatoes
. Don't tell him, ok?). So here is my first attempt at making them.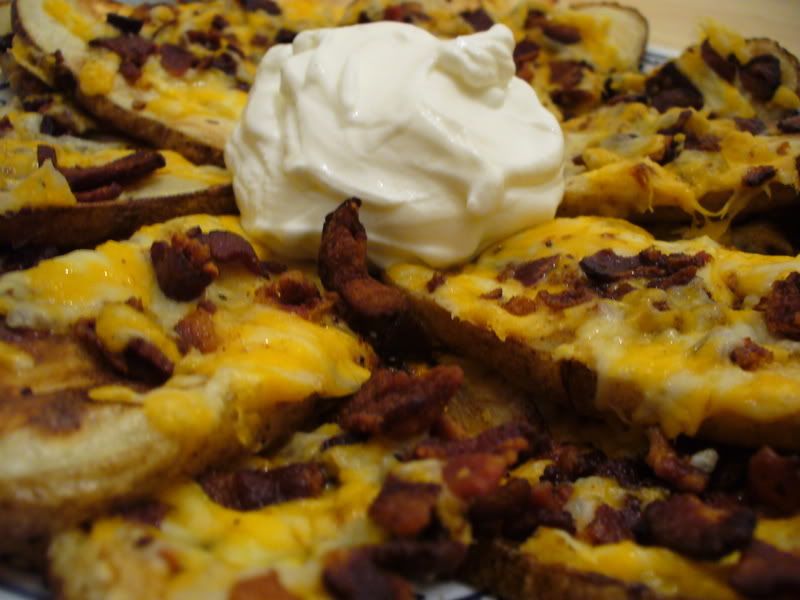 'Tater Skins

Ingredients:
4 large Russet potatoes, scrubbed
6 strips of bacon
3/4 cups of shredded cheese,
I used CoJack cheese
1/2 cup of sour cream
2 green onions, sliced,
I didn't have any so I skipped this
Directions:
~Scrub the potatoes and cut them into thick slices. Bake on a large baking sheet in a preheated 350 degree oven for 20 minutes until the slices are almost tender.
~While the potatoes bake, brown the bacon, remove, cool and break into crumbles.
~Remove the potatoes from the oven and in a large skillet over medium high heat, heat 2 tablespoons of canola oil. Place the potato slices in the pan and fry until golden brown on each side.
~Remove the potato slices from the pan and allow them to drain on a plate lined with several paper towels.
~Place the crisp potatoes back on the baking sheet and top with the cheese and bacon. Bake for 5 minutes or until the cheese is melted.
~Serve with sour cream.
recipe by: The Good Wife