This week's ingredient is a basic staple in most kitchens, I would assume, save for my favorite veggie
Annie
. Ground beef is usually cheap if you get the full fat mix. We try to get lean ground beef so it is slightly healthier.
But what can you do with ground beef besides hamburgers and meatloaf? Well thanks to some
uber-Christian, homeschooling, procreation friendly Southern family
, the world has been introduced to Tater Tot Casserole (TTC). But in The Good Wife's house, we knew of this culinary delight long before the Duggars popped out number 1.
See, The Good Husband was raised by The Good Grandma. TGG is in her 80s and was raised during the Great Depression. So she knew how to eat on the cheap (as well as live on the cheap. You should hear her tell the story about how her Dad only made one dollar a week and because the fee for licence plates was .25, they had to drive on back roads and only go to town at night because they couldn't afford to pay the quarter). She also had 8 kids and had to feed a family on the cheap. Out of necessity TTC was born.
TTC, along with a collection of family recipes, was given to me when I got married. This version is "Sloppy TTC" since instead of using cream of mushroom soup with the ground beef, I used sloppy joe sauce.
"Sloppy" Tater Tot Casserole
Ingredients:
1 lb ground beef
1 lb ground turkey
Salt, pepper and grill seasoning to taste
1 15-ounce can tomato sauce
2 tablespoons brown sugar
1 tablespoon Worcestershire sauce
1 teaspoon chili powder
1/2 teaspoon onion powder
1/4 teaspoon garlic powder
1 can corn kernels
1 can cut green beans
1 medium bag tater tots
2 cups shredded cheese


Directions:
~Brown meat in a large skillet over medium high heat. Drain off fat and season with salt, pepper and grill seasoning.
~Add the tomato sauce, brown sugar, onion powder, garlic powder, chili powder and Worcestershire sauce. Cook until bubbly and thickened. Drain and add the can of corn and green beans.
~Pour mixture in the bottom of a 13x9 casserole dish. Layer the tater tots on top.
~Bake uncovered for 35 minutes at 425 degrees. Remove from oven, top with the cheese and bake for another 10 minutes.
recipe modified from: The Good Grandma

Now that the days are getting shorter and cooler, a big bowl of chili really hits the spot. For every person that cooks there is a different chili recipe. This is actually one TGH taught me and it never fails. It is simple and easy to make.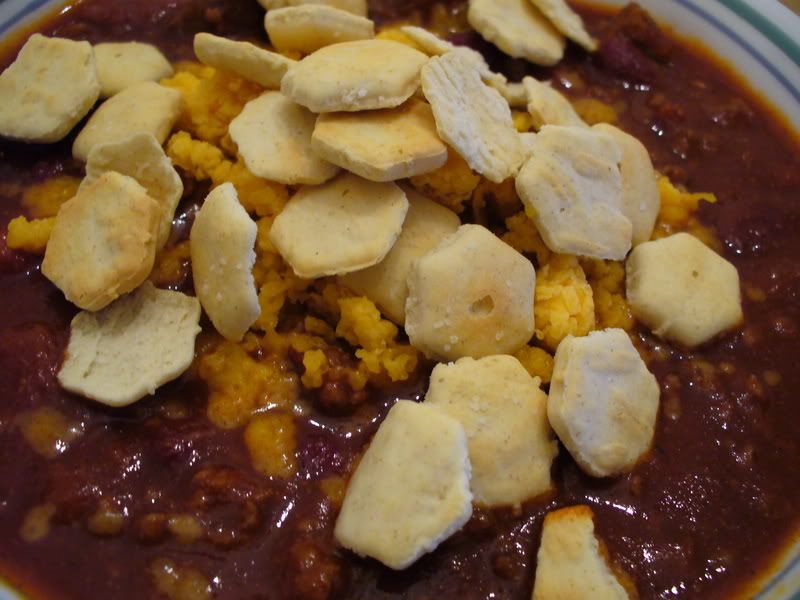 Chili
Ingredients:
2 lbs ground beef
1 tablespoon onion powder
1/2 tablespoon garlic powder
1 teaspoon dried oregano, crushed
1 teaspoon ground cumin
3 teaspoons chili powder
1 46 oz can V8 juice
1 can light red kidney beans
1 can dark red chili beans
1 small can mushrooms, sliced
Directions:
~Brown the beef in a large, deep stock pot. Drain off fat.
~Add all of the following ingredients. Do not drain the liquid off the beans or the mushrooms. Bring to a boil and simmer uncovered for 20 minutes.
~Serve with oyster crackers, cheese and/or sour cream.
recipe by: The Good Husband