The ingredient I choose for this week is something I normally don't work with a lot. Like most kids I was never a big fan of spinach and that has translated into my adult life as well. I have only ever had spinach in two forms - leaf and canned.
I remember the first time I ever had spinach. I was in first grade and my school was having a lunch with your parents day. My mom took time off work to come and eat lunch with me. Already having to deal with sitting at a little table and chair, my mom was then also faced with the daunting task of finding something in the school cafeteria she could eat. Somehow she managed to find a salad that had leaf spinach in it. She gave me a bite and told me what it was. And it was good.
Flash forward two weeks and I was over at my paternal grandmother's house. They were getting ready to fix dinner and asked me what vegetable I wanted. I asked if they had any spinach and my grandmother seemed very happy that I liked spinach. That is until I was presented with a plate of green leafy snot. I stood there confused with a look of horrid disgust on my face.
"What is that?" I asked.
"Spinach," I was told.
"That's not spinach," I replied, trying to clam my gap reflex.
"Yes it is."
"No it is not! Spinach is leaves! That is not spinach!" I started to cry.
"Leaves? Leaves?! What are you talking about? Leaves? This is spinach and since you wanted it, you have to eat it"
Crying. "No."
And that was the last time I remember having dinner at my paternal grandmothers. I never did eat that damn spinach and I am sure my grandmother was pissed about the 89 cents I wasted, but I was convinced they were trying to feed me something other than spinach and were lying about it.
But I have discovered, even if I don't
particularly
like the taste of cooked spinach, nothing improves on flavor like butter, cream and garlic. Thus, I present: Spinach Gratin.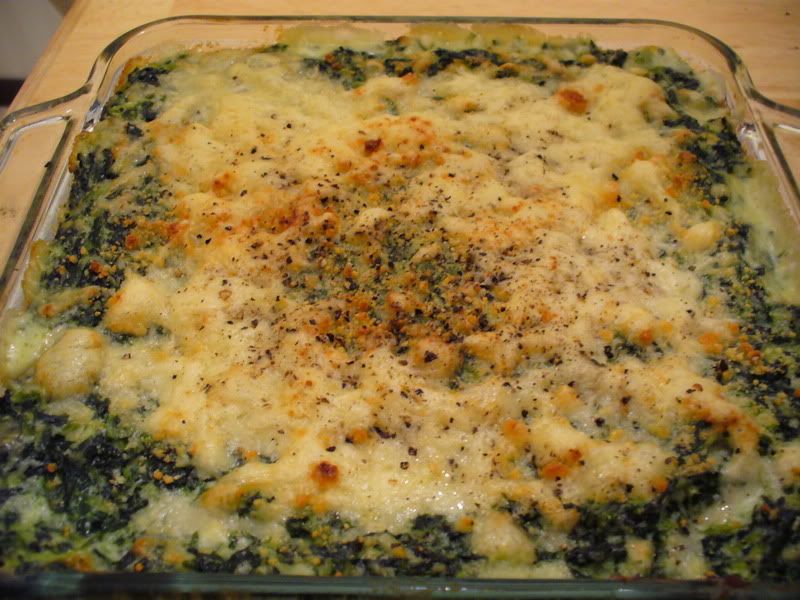 Ingredients:
4 tablespoons unsalted butter
4 cups chopped yellow onions, I used 4 large shallots, though since TGH is not a big onion fan
2 cloves garlic, minced
1/4 cup flour
1/4 teaspoon grated nutmeg
1 cup heavy cream
2 cups milk
3 pounds frozen chopped spinach, defrosted (5 (10-ounce) packages)
1 cup freshly grated Parmesan cheese
1 tablespoon kosher salt
1/2 teaspoon freshly ground black pepper
1/2 cup grated Gruyere cheese, I used Swiss instead

Directions:
~Preheat the oven to 425 degrees F.

~Melt the butter in a heavy-bottomed saute pan over medium heat. Add the onions (or shallots) and garlic and saute until translucent, about 15 minutes. Add the flour and nutmeg and cook, stirring, for 2 more minutes. Add the cream and milk and cook until thickened. Squeeze as much liquid as possible from the spinach (to do this I use a clean kitchen towel. I place the spinach in the middle and bring all four corners of the towel together and ring the water out of the spinach) and add the spinach to the sauce. Add 1/2 cup of the Parmesan cheese and mix well. Season, to taste, with salt and pepper.

~Transfer the spinach to a baking dish and sprinkle the remaining 1/2 cup Parmesan and the Gruyere on top. Bake for 20 minutes until hot and bubbly. Serve hot.
recipe by: Ina Garten

The next dish I used spinach in was a nice simple salad, since leaf spinach is still my favorite. When I worked at a grocery store, one of the perks was getting to read all the magazines when it was slow. I planned most of my wedding that way. Thank you Martha Stewart! Aside from all the gossip I was able to catch up on, I loved all the little recipe books. I have a ton of recipes I wrote on sales receipts that are now stored in my recipe binder. This salad I remember seeing in a magazine but I didn't write it down, since I thought it was simple enough.
Needless to say I think I have modified it beyond the original version. So I just call this salad Harvest Apple Salad.
Ingredients:
1 large sweet apple, chopped, I use Pink Lady apples since I think they are the best ever
8 oz blue cheese crumbles
1 cup walnut halves
2 cups of leaf spinach
1 1-2 cups honey mustard citrus vinaigrette (recipe to follow)

Directions:
~Combine all the ingredients and toss with dressing. Serve as 4 side salads or 2 entree salads.

Honey Mustard Citrus Vinaigrette

Ingredients:
1/2 cup white vinegar
1 tablespoon honey
1 tablespoon prepared Dijon-style mustard
1 tablespoon orange juice
1/2 teaspoon ground black pepper
2 teaspoons salt
2 teaspoons minced garlic
1 cup vegetable oil

Directions:
~Whisk together all the ingredients in a small bowl and pour over desired salad.

recipe by: The Good Wife