Eggs and 'taters gets tiresome sometimes and pancakes are a good, easy solution to the eggs and 'taters blah. I normally like just pancakes covered in butter and syrup but every now and then I love a good sausage and pancake sandwich. I wish I could make some kind of lovely sausage pancake corndog like thing, but when I want breakfast I don't want to wait. Since I normally sleep in on Sunday, most of our breakfasts are technically bunch anyway, so the last thing I need is to fool around with some kind of pancake and sausage on a stick.
So in order to compromise between my desire to have breakfast on a stick and the hurried need to eat right away, I made sausage pancake sandwiches.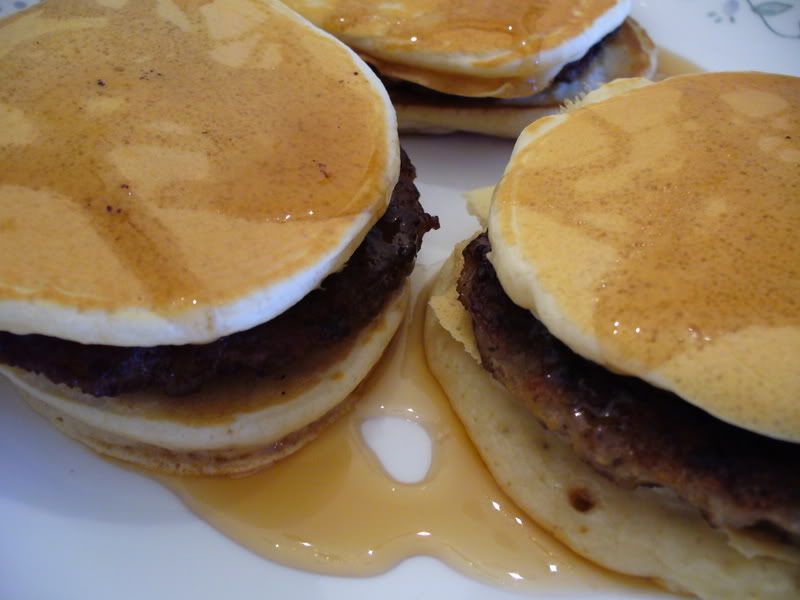 Ingredients
:
1 3/4 cups all-purpose flour
2 tablespoons granulated sugar
1 tablespoon baking powder
1/4 teaspoon salt
1 egg, slightly beaten
1 1/2 cups milk
1 tablespoon vanilla extract
3 tablespoons cooking oil
Directions:
~In a large bowl combine flour, sugar, baking powder and salt.
~In another bowl combine egg, buttermilk, vanilla extract and oil.
~Add egg mixture all at once to flour mixture. Stir just until moistened (batter should be slightly lumpy).
~To make a pancake, ladle 3 tablespoons of the batter into a hot, greased griddle or large skillet. Cook over medium heat for 1 to 2 minutes or until bubbles form on the surface of the pancake. Flip the pancake over and cook for another 1 to 2 minutes.
To make the sandwiches:
~Layer one cooked sausage patty between two hot pancakes and top with a drizzle of syrup.
recipe modified from: Better Homes and Gardens