Now that the days are getting chillier, soups and stews are on the menu. In last week's Ingredient of the Week, I highlighted ground beef and made Chili. That ushered in the beginning of fall menu at The Good Wife's house. This week's ingredient is beef roast, namely Boneless Beef Chuck Roast. The easiest and most tasty soup I make with BBCR is Vegetable Beef Soup.
Again this is one of those dishes I had at The Good Grandma's. It was full of veggies that I normally don't eat and don't really like that much (I mean, Lima Beans anyone?) but with everything else in the soup, it was super tasty and I didn't mind the beans that much.
A tip before you start: The recipe that follows makes almost 3 gallons of soup. I have a large stock pot that will hold that much soup but if you don't you can easily cut the recipe in half.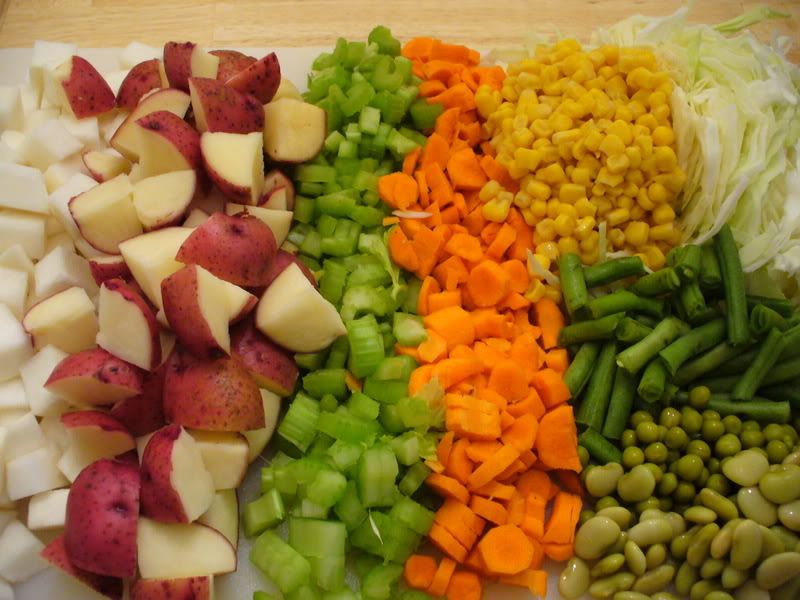 Vegetable Beef Soup
Ingredients:
3 pounds boneless beef chuck roast, trimmed and cubed
6 cans of beef broth
2 cans of stewed tomatoes
2 medium turnips, peeled and cubed
2 pounds small red potatoes, scrubbed and cubed
4 stalks of celery, diced (leaves too)
4 carrots, peeled and diced
1 small head of cabbage, shredded
2 cans of corn (I use one can of golden corn kernels and one can of white corn kernels)
2 cans of green beans
2 cans of peas
1 can of Lima beans ('cos, really, who likes Lima Beans?)
2 tablespoons dried basil
2 tablespoons dried oregano
1 tablespoon onion powder
1 tablespoon garlic powder

Directions:
~Cook the beef in a slow cooker over low heat for 4 to 5 hours.

~Add the meat, juices and all, to the stock pot and add the beef broth and tomatoes. Bring the mixture to a boil and then lower to a shimmer. Add the potatoes, turnips, celery and carrots. Cook for ten minutes.

~Add all of the remaining ingredients and simmer, covered, for 20 minutes.
recipe by: The Good Wife
This Ingredient of the Week should really be about the cooking tools as much as it is about the food. Both of the dishes were made, at least partly, with the slow cooker.
I don't use my slow cooker that much. I kind of forget I have it tucked away in my small kitchen, hiding behind my mixing bowls. But when I use it, I remember how great it is and use it twice the week I remember I have it.
Italian Beef was one of the plate choices we had at our wedding, so it will always have a special place in my heart. It is super to make as well, slow cooker notwithstanding.
Italian Beef
Ingredients:
2 pounds boneless beef chuck roast
1 package of dry Italian Dressing Mix
1/2 cup Italian dressing
1/2 cup banana peppers, juice and peppers (optional) - The Good Husband can't eat anything spicy, so we hold the peppers
1 package of Kaiser Rolls

Directions:
~Pour 1/2 cup of Italian dressing in the bottom of the slow cooker. Place the beef roast in the cooker, turning to coat all sides. Sprinkle the Italian Dressing over the beef, making sure all of the roast is covered. Top with the peppers.

~Cook on low for 6 to 8 hours. Before serving, shred the meat with two forks and stir to combine the juices.

~Serve on Kaiser Rolls with a side of oven fries (recipe to follow).

I like to top my Italian beef with banana peppers (I do like all things spicy), Pepper Jack cheese and horseradish. TGH likes his with ketchup and pickles.
recipe by: The Good Wife