As American as . . .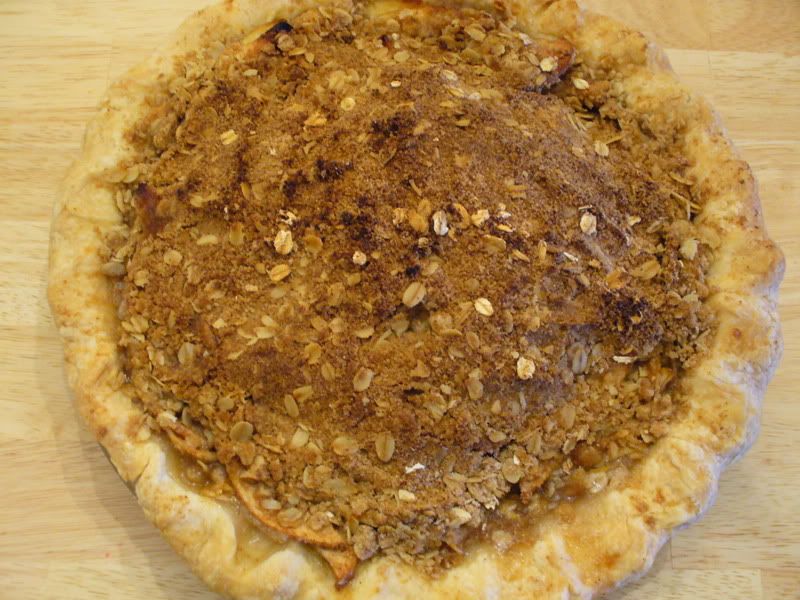 I'm a bad American. I don't really like apple pie. I love making it but I am not a big fan of the eating it part. Thank Ben Franklin, The Good Husband loves apple pie, so that when I make it, someone is around to eat it. TGH's favorite type of apple pie is Dutch Apple Pie. So maybe it isn't that American after all.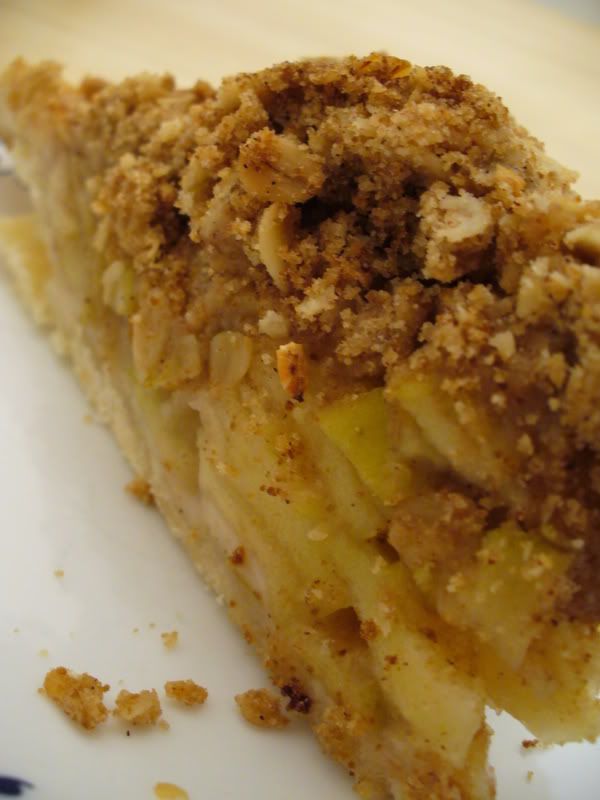 For some reason The Good Grandma put rolled oats in her Dutch Apple Pie topping and TGH won't eat it any other way. This is one of those modifications that I inherited from someone else, and I cannot now make the dish without it.
Ingredients:
1 recipe for pastry crust (to follow)
5 cups apples - peeled, cored and sliced, I used Granny Smith
2 tablespoons all-purpose flour
2/3 cup white sugar
1/2 teaspoon ground cinnamon
1/4 teaspoon ground nutmeg
1/4 teaspoon ground allspice
2 tablespoons butter
3/4 cup all-purpose flour
1/2 teaspoon ground cinnamon
1/2 cup packed brown sugar
3/4 cup rolled oats
1 teaspoon lemon zest
1/2 cup butter

Directions:
~Preheat oven to 375 degrees F.
~To make the filling, place apples in a large bowl. Add 2 tablespoons flour, white sugar, 1/2 teaspoon cinnamon, nutmeg and allspice and toss to coat the apples.
~To make the topping, combine 3/4 cup flour, 1/2 teaspoon cinnamon, brown sugar, oats and lemon peel. With a fork or pastry cutter, cut in 1/2 cup butter until mixture is crumbly.
~To assemble the pie, pour the apple filling into the pastry shell and top with the streusel topping. Cover the edges of the pie in aluminum foil to prevent excess browning and bake for 40 minutes. Remove the foil and bake for 20 minutes more.
Pastry Shell
Ingredients:
1 1/4 cups all-purpose flour
1/4 teaspoon salt
1/2 cup shortening, chilled
3 tablespoons ice water

Directions:
~Combine the flour and salt together in a medium size bowl. With a fork or pastry cutter, cut in the cold shortening until the mixture resembles coarse crumbs. Drizzle 2 to 3 tablespoons ice water over flour. Toss mixture with a fork to moisten, adding more water a few drops at a time until the dough comes together.
~Form the dough into a ball. Wrap in plastic wrap, and chill for 30 minutes.
~Roll the dough out and place in a pie plate, fluting the edges.

recipe modified from: Better Homes and Gardens