I first saw this project in the Martha Stewart Living Sept 04 issue. I thought it was a super cute idea and easy to make, or so it seemed. Following are the directions from MS and how I really made these super cute jars.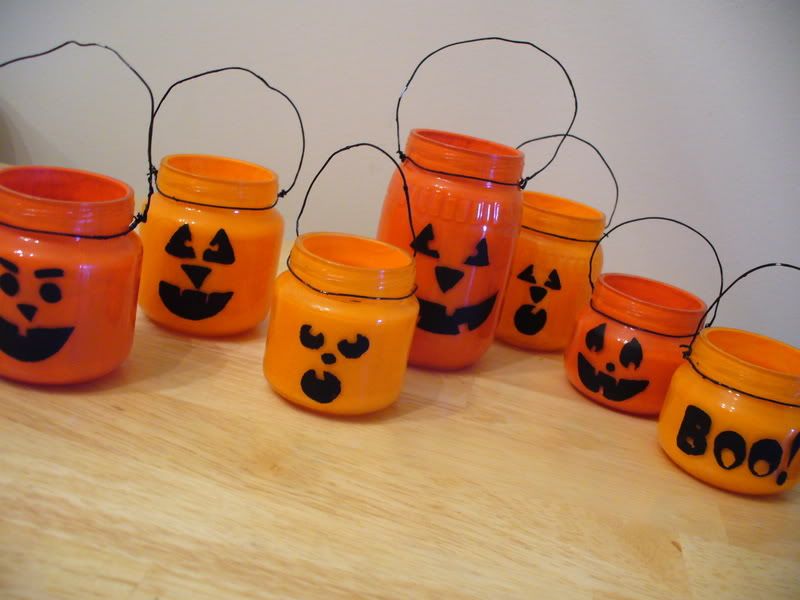 Tools and Materials
Clean jars
Oil-based enamel paint in black and orange or yellow
Paintbrush
Extra-wide masking tape
Marker
Utility knife
Plastic-covered 20-gauge wire
Needle-nose pliers
Small candle (such as the LED candle)

Jar-o'-Lanterns How-To:
~In a well-ventilated area, paint inside of jar orange or yellow until opaque. Apply masking tape to outside. Press out air bubbles. Draw a jack-o'-lantern face in marker on tape (or print out our templates onto adhesive labels). Cut out and peel away features with a utility knife to form a stencil (an adult should do this).
~Paint stencil with black paint. When dry, peel off tape.
~For a handle, loop the end of wire with pliers. Make a lasso shape that will hug jar. Bend remaining wire over for a handle. Cut wire; make another loop to hook onto ring. Slip ring over jar's mouth; tighten.
NOTE: For the jars, I used baby food jars. I didn't want to waste all that baby food, so I got foods that I would eat - bananas and pudding. I got several different sizes and I thoroughly washed and dried each one.
Then I used acrylic paint instead or oil based. I used Delta Creamcoat in Pumpkin and Tangerine.
Next, I tried to do the stencil but it was such a pain in the ass, that I decided to free-hand it. I used Delta Creamcoat in black and I painted the faces on by hand.
Also, instead of using plastic wire, I just used silver floral wire from the craft store and painted it black. I did use the pliers to tighten the wire but since I thought the jars were rustic, I didn't worry too much about being perfect.
I made these jars back in 04 and someday I might paint some more to add to the collection. All in all it was about a 4 hour project, considering since you pain the inside of the jars, you can paint the outside while the inside dries. You can also save time by either using black floral wire (if you can find it) or by leaving it sliver. I have never actually put a tea light in the jars, since I think they look fine as is, but you totally can.
I put the pumpkins out this weekend and when The Good Husband came home he noted I had them out. He knows how much pride I have in finishing projects I start so it did mean a lot to me that he commented on them. I think he thinks they are cute too.
Our candy bowls, sans candy since I would eat all of it before Halloween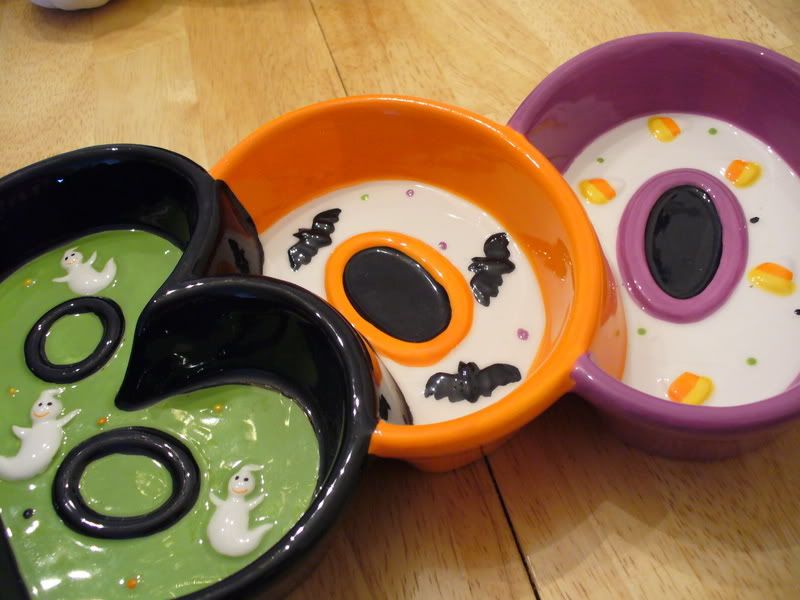 My mummy candle holder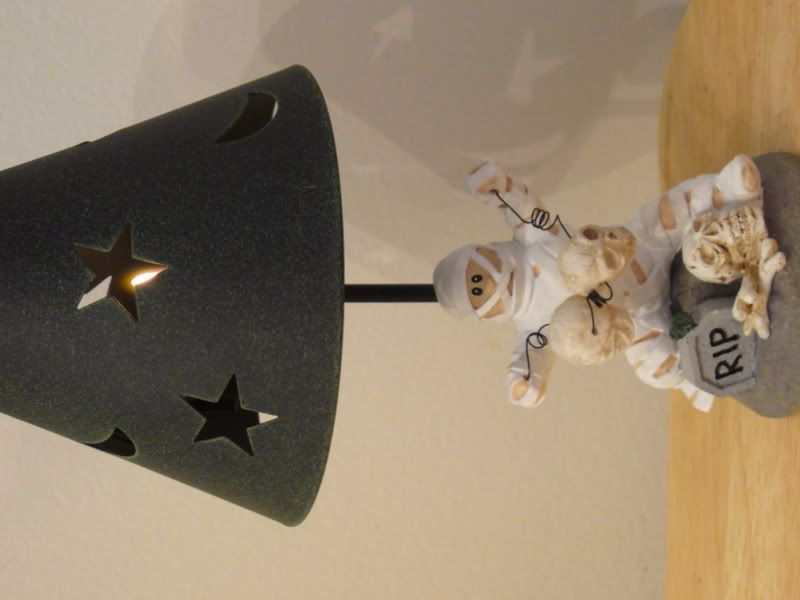 My trick to any decorating is I always go to the craft store the week of the holiday to get the best stuff on clearance. That way I get it on the cheap and I can put it out for at least one day. I have found that if I wait until the holiday is over, all the good decorations are picked over or are removed all together for the next holiday's decorations.