Anyone who has read my blog before knows how much I love bread. And how that it is the only thing I am craving now, I have to find more creative ways to satisfy my bread desire. This week, after seeing an episode of
Diner's, Drive-ins and Dives
, which featured
Surrey's Café and Juice Bar
, in New Orleans, I had a HUGE craving for bagels and lox.
Sadly the lox I can't have, but nothing can stop me from eating a dozen of these!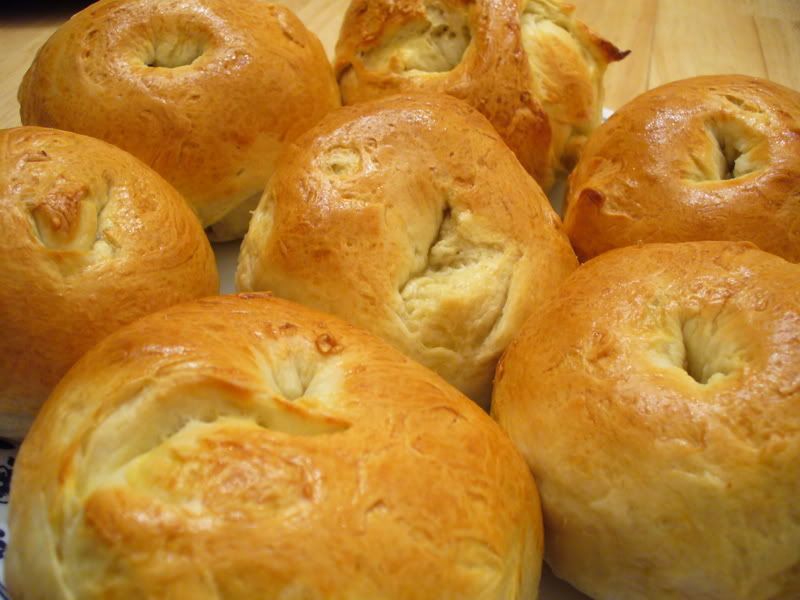 I found a bagel recipe in my Joy of Cooking cookbook. I did have some problems with the recipe though. The dough was just so dry that I had to add several tablespoons of water to get it to a smooth stage. I don't think it effected the overall texture or flavor but I was just a little disappointed that the dough wasn't perfect the first time. I also didn't roll the dough into a log and shape the bagel. I just rolled the dough into a ball and pushed my thumb through to make the hole. I think that is why my bagels have almost no hole.
When I ate all of these bagels, I decided to try again a few days later to see if maybe in a rush, I had just dumped all the flour in and that was why my dough was too dry. I slowly added the flour and when the dough looked stiff and could hold no more flour, I realized that I had almost one half cup of flour that I hadn't mixed in.
So while this recipe did produce a very tasty bagel, I might go with a different version next time.
Ingredients:
1 cup plus 2 Tbsp warm (105° to 115° F) water
1 package (2 1/4 tsp) active dry yeast
2 1/2 teaspoons sugar plus 1 1/2 teaspoon
1 Tbsp melted vegetable shortening
1 3/4 tsp salt
1 cup plus 3 to 3 1/2 cups bread flour
Directions:
~Combine in a large bowl or the bowl of a heavy-duty mixer and let stand until the yeast, dissolves (about 5 minutes), the water, yeast and 2 1/2 teaspoons sugar.
~Slowly stir in the shortening, 1 1/2 teaspoon sugar, salt and 1 cup flour.
~Slowly add the remaining flour and knead for about 10 minutes by hand or with the dough hook on low to medium speed until the dough is smooth and elastic.
~Let rest, covered, 15 to 20 minutes.
~Punch down the dough and divide into 8 equal pieces. Roll each piece into a rope tapering the ends. Wet the ends to help seal and form into rings, stretching the top end over and around the bottom end and pinching them together underneath. Or alternately, roll each piece of dough into a ball. Stick your thumb through the ball to make a hole. Stretch the hole out about 2 inches. Let rise, covered, on a floured board about 15 minutes, until puffy.
~Preheat the oven to 425°F.
~Bring to a boil in a large pot:
4 quarts water
1 Tbsp sugar
1/2 tsp salt
~Drop the rings 4 at a time into the boiling water. As the bagels surface, turn them over and cook about 45 seconds longer. Skim out and place on an ungreased baking sheet coated with cornmeal.
~Bake 20 to 25 minutes, turning after 15 minutes, until golden brown and crisp.
recipe by: The Joy of Cooking