Nothing smells better than fresh baked cinnamon rolls.
But having never cooked them before, I didn't realise how long it actually takes before you can smell them. We decided to have The Good Grandmother over for breakfast on Sunday and being sick of the usual biscuits and gravy, eggs and 'taters, pancakes/waffles, I decided to make cinnamon rolls.
I found a recipe the night before and determined I would need about 2 hours to make them. No problem normally, since I can get up early if I want, but I have found that now that I am in my second trimester, getting out of bed in the morning is just so incredibly hard.
The recipe I used made 24 rolls. After TGG, The Good Husband and I had our fill, there was plenty to give to TGG to take home and for us to have the rest of the week as well.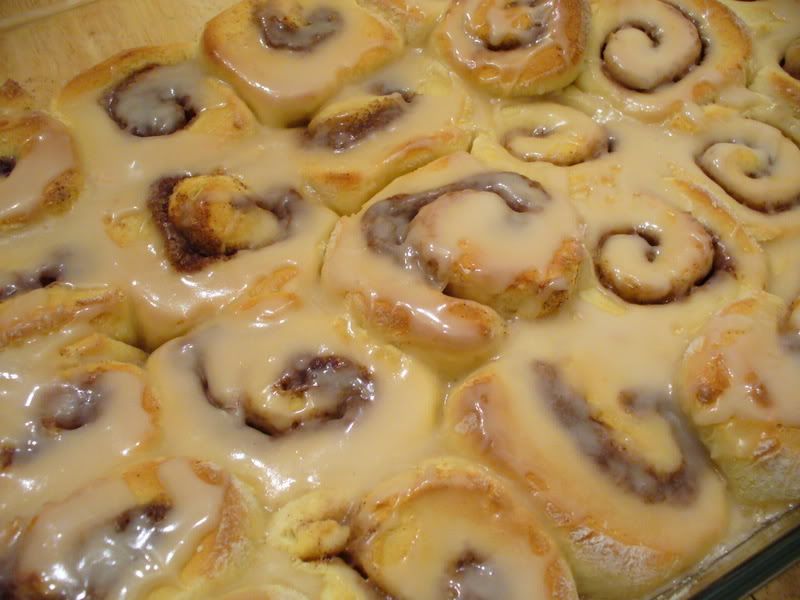 I got a sloppy when cutting them (I used dental floss instead of thread) so some were thicker than others but the taste was perfect. I also used a powdered sugar icing when I think next time I will make a cream cheese frosting.
These babies were definitely worth getting up early for, but in the future, this will be one of the first things I teach my kids to make so I can wake up to the glorious smell in the morning.

Ingredients
4 to 4-1/3 cups all-purpose flour
1 package active dry yeast
1 cup milk
1/3 cup sugar
1/3 cup butter
1/2 teaspoon salt
2 eggs
3 tablespoons butter, melted
1/2 cup sugar
2 teaspoons ground cinnamon
1 recipe Powdered Sugar Icing

Directions
~In a large bowl or the bowl of your stand mixer, combine 2 cups of the flour and yeast. In a medium saucepan heat and stir milk, the 1/3 cup sugar, the 1/3 cup butter, and salt just until warm, about 120 to 130 degrees F. and butter almost melts. Add milk mixture to dry mixture along with eggs. Beat with an electric mixer or your stand mixer, on low speed for 30 seconds, scraping bowl. Beat on high speed 3 minutes. Use a wooden spoon to mix in the remaining flour. If using your stand mixer, mix in the remaining flour on low speed

~Turn dough onto a floured surface. Knead in enough remaining flour to make a moderately soft dough that is smooth and elastic, about 3 to 5 minutes.. Shape dough into a ball. Place dough in a lightly greased bowl; turn once to grease dough. Cover and let rise in a warm place until double in size, about 1 hour.

~Punch dough down. Turn onto a lightly floured surface. Divide in half. Cover and let rest 10 minutes. Lightly grease two 9x1-1/2-inch round baking pans (I used a 15x11 pan).

~Roll each portion of the dough into a 12x8-inch rectangle. Brush the 3 tablespoons melted butter over dough. Combine the 1/2 cup sugar and cinnamon; sprinkle over dough. Roll up into a spiral, starting from a long side. Seal seam. Slice each roll into 12 equal pieces using thread or dental floss. Place in prepared pans. Cover and let rise in a warm place until nearly double, about 30 minutes.

~Bake in 400 degree F oven for 12 to 14 minutes or until golden. Cool slightly. Drizzle with Powdered Sugar Icing.

Makes 24 rolls.

Powdered Sugar Icing: In mixing bowl combine 1 cup sifted powdered sugar, 1/4 teaspoon vanilla, and 1 tablespoon milk or orange juice. Stir in additional milk or juice, 1 teaspoon at a time, until it reaches drizzling consistency. Makes 1/2 cup.
recipe by: Better Homes and Gardens