With the left over blueberries from the fruit bouquet, the next morning I decided to make muffins.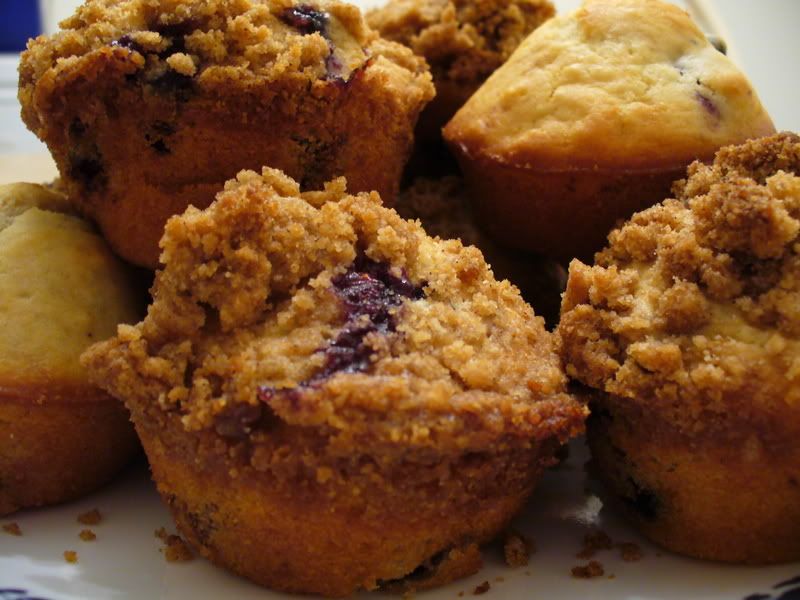 Ingredients
1-3/4 cups all-purpose flour
1/3 cup sugar
2 teaspoons baking powder
1/4 teaspoon salt
1 egg, beaten
3/4 cup milk
1/4 cup cooking oil
3/4 cup fresh or frozen blueberries
1 teaspoon finely shredded lemon peel
1 recipe
Streusel
Topping (optional)
Directions

~Preheat oven to 400 degrees F. Grease twelve 2-1/2-inch muffin cups or line with paper bake cups; set aside. In a medium bowl combine flour, sugar, baking powder, and salt. Make a well in center of flour mixture; set aside.

~In another bowl combine egg, milk, and oil. Add egg mixture all at once to flour mixture. Stir just until moistened (batter should be lumpy). Fold in the blueberries and the lemon peel.
~Spoon batter into prepared muffin cups, filling each 2/3 full. If desired, sprinkle
Streusel
Topping over muffin batter in cups. Bake for 18 to 20 minutes or until golden and a wooden toothpick inserted in centers comes out clean. Cool in muffin cups on a wire rack for 5 minutes. Remove from muffin cups; serve warm.
Makes 12 muffins

Streusel

Topping
: In a small bowl stir together 3 tablespoons all-purpose flour, 3 tablespoons packed brown sugar, 1/4 teaspoon ground cinnamon and 1/8 teaspoon of nutmeg. Cut in 2 tablespoons butter until the mixture resembles coarse crumbs.
recipe modified from the better homes and gardens cookbook

I served them warm with some unsalted butter. I made both the plain and the "dutch" kind and by far, we liked the dutch version better.