I had a craving for Spanakopita, or Spinach Pie, as my grandmother introduced me to when I was younger. I love the flaky layers of the phyllo dough and the salty, creaminess of the feta and ricotta cheese. I had always thought it was too hard to make but the hardest part is really layering all the phyllo.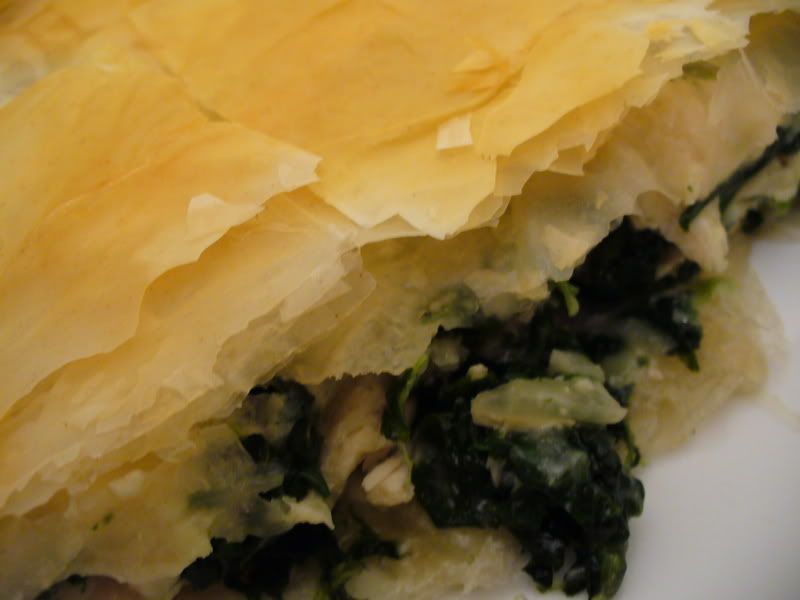 Ingredients
3 tablespoons olive oil
1 large onion, chopped
1 bunch green onions, chopped
2 cloves garlic, minced
2 boxes of frozen spinach, thawed and drained
1/2 cup chopped fresh parsley
2 eggs, lightly beaten
1/2 cup ricotta cheese
1 cup crumbled feta cheese
8 sheets phyllo dough
1/4 cup olive oil or melted butter

Directions

~Preheat oven to 350 degrees F. Lightly oil a 9x9 inch square baking pan.
~Heat 3 tablespoons olive oil in a large skillet over medium heat. Saute onion, green onions and garlic, until soft and lightly browned. Thaw the spinach in the microwave, place it in a clean kitchen towel and squeeze it to drain the water off. Stir in spinach and parsley, and continue to saute about 2 minutes. Remove from heat and set aside to cool.

~In a medium bowl, mix together eggs, ricotta, and feta. Stir in spinach mixture. Lay 1 sheet of phyllo dough in prepared baking pan, and brush lightly with olive oil or butter. Lay another sheet of phyllo dough on top, brush with olive oil or butter, and repeat process with two more sheets of phyllo. The sheets will overlap the pan. Spread spinach and cheese mixture into pan and fold overhanging dough over filling. Brush with oil or butter, then layer remaining 4 sheets of phyllo dough, brushing each with oil or butter. Tuck overhanging dough into pan to seal filling. The Good Wife Tip: When working with phyllo dough, place a damp towel over the phyllo sheets you are not using so they don't dry out. Be gentle when separating the sheets of phyllo and make sure to brush the oil or butter all the way to the edges of the sheets. Brush the top sheet with butter to achieve a golden brown crust.
~Bake in preheated oven for 30 to 40 minutes, until golden brown. Cut into squares and serve while hot.
Modifications
For this recipe, I added 2 cups of cooked chicken, cubed. While it did add a little heft to the spanakopita, I prefer the meatless version. I also brushed the phyllo with canola and olive oil and I think that butter makes this dish richer and more flavorful. I also doubled the number of phyllo sheets I used; 8 sheets on the bottom and 8 on the top, since I really like the flavor.