I will admit that this is kinda a lame IotW since I really just used cheese as a topping in both of these dishes but oh well. It is getting colder and casseroles are easy to make and always taste better with cheese.
First up is a dish that made it's debut in the Good Household this week: Cheesy Chicken, Rice and Broccoli Casserole. The Good Husband hates rice. The only thing he will eat it in is
Porcupine Meatballs
. But a lot of casserole recipes call for rice. The trick, I have found to get TGH to eat something he doesn't like, is to cover it with cheese. He loves chicken and he loves broccoli and cheese, so why not add some rice in there as well?
I must admit that while I don't see this staring in a reoccurring weekly role in the Good Household, it is definitely a "make again" dish.
Ingredients:
3 cups chicken broth
1 1/2 cups of uncooked, long grain white rice
2 cups of cooked chicken breast, cubed
2 cups of broccoli florets, cooked or one package of frozen broccoli
2 tablespoons of butter
2 tablespoons of flour
1/2 cup chicken broth
1 1/2 cup of milk
2 cups of shredded cheddar cheese
Directions:
~Preheat oven to 350 degrees F.
~In a medium saucepan, bring the 3 cups of chicken broth to a boil. Mix in the rice, cover and simmer for 15 minuets.
~In another sauce pan over medium, melt the butter with the flour to form a roux. Slowly add the 1/2 cup chicken broth and the milk, whisking to break up any lumps. Continue to whisk, in a figure eight pattern, until the sauce is thick and bubbly. Add the cheese and whisk to combine.
~Once the rice is cooked, add the chicken and the broccoli and stir to combine. Pour the cheese sauce over the rice, chicken and broccoli mixture and stir to combine. Pour the mixture into a 9x13 baking dish.
~Bake, covered, for 30 to 35 minutes or until heated through. Remove the foil and top with additional cheese and bake for 10 minutes more, if desired.
recipe by: The Good Wife
The next casserole of the week is a star in the Good Household: The Original Tater Top Casserole.
This dish first made it's debut on the blog under the
Ingredient of the Week . . . Ground Beef
, in the "sloppy" version. But this is the original, and as TGH would argue, best version of the dish.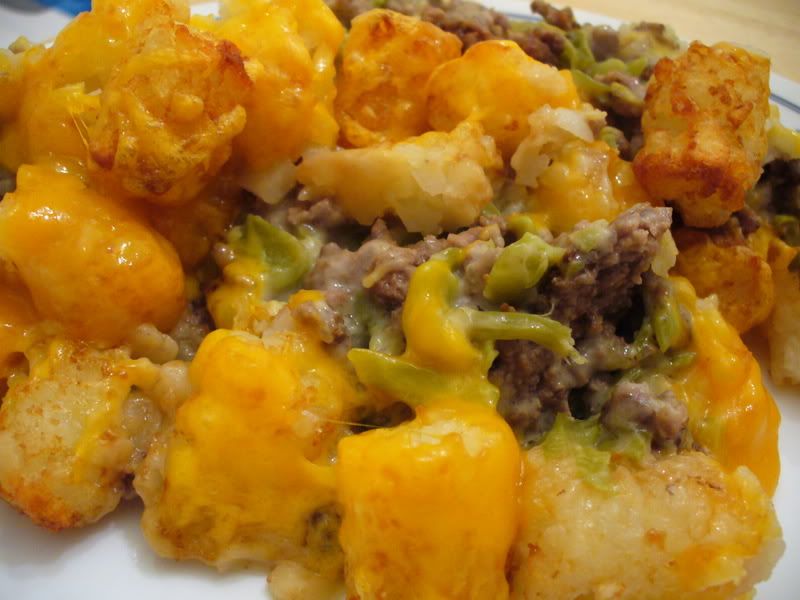 The Original Tater Tot Casserole

Ingredients:
1 lb ground beef
1 lb ground turkey
Salt, pepper and grill seasoning to taste
1 15-ounce can cream of mushroom or cream of celery soup
1 can cut green beans
1 medium bag tater tots
2 cups shredded cheese
Directions:
~Brown meat in a large skillet over medium high heat. Drain off fat and season with salt, pepper and grill seasoning.
~Add the cream of mushroom or celery soup. Drain and add the can of green beans.
~Pour mixture in the bottom of a 13x9 casserole dish. Layer the tater tots on top.
~Bake uncovered for 35 minutes at 425 degrees. Remove from oven, top with the cheese and bake for another 10 minutes.
recipe by: The Good Grandma