I think I might be coming down with something. I think it might be the lazy flu. You know, the one where all you want to do is lay on the couch in your pajamas while watching all the Love shows on VH1? Yeah, I think I have it. Be cautious that you don't get it either.
With my sudden illness in mind, this is the kind of lazy dish I make. I didn't even have to get out of my pjs but since The Good Husband still needed to be fed, he got this: The Lazy Man (or Good Wife) Pasta.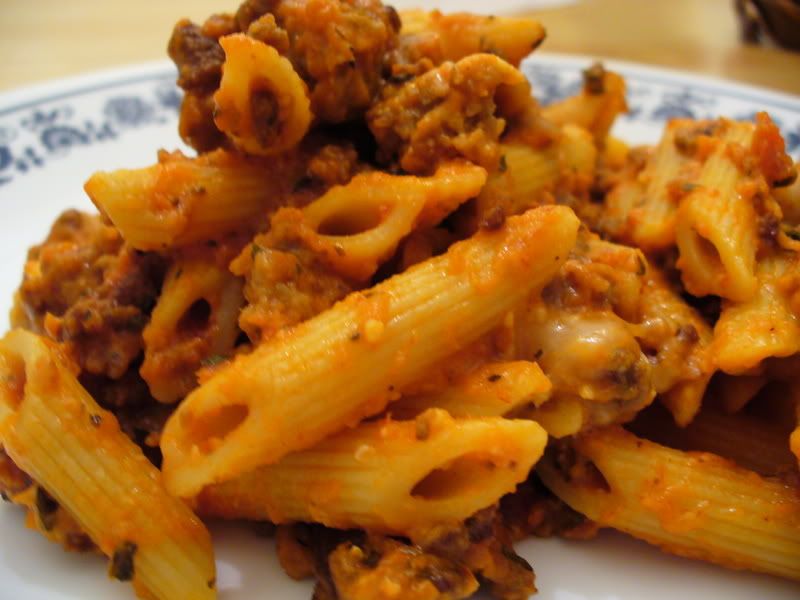 Ingredients:
1 box shaped pasta, any shape will do but I used Penne Regatta
1 lb of ground meat, any kind will do but I used turkey sausage
1 jar of pasta sauce, any kind will do
1 onion, chopped, any kind will do but I used a white onion
1 clove of garlic, minced
2 cups of shredded cheese, any kind will do but I used an Italian blend
1 tablespoon of an herb, any kind will do but I used Italian Seasoning
Directions:
~Cook pasta according to box, drain.
~While the pasta cooks, brown meat in a large skillet over medium high heat. When the meat is almost cooked through, add the onion and garlic. Cook for a few minutes until the onion and garlic are tender. Turn the heat to high, add the pasta sauce and bring to a boil. Lower the heat and simmer, uncovered until the pasta is cooked.
~Combine the drained pasta with the meat and sauce mixture and one cup of cheese and pour into a baking dish, any kind will do. Top with the remaining cheese and cover with foil.
~Bake at 350 degrees for 20 minutes. Remove the foil and bake for another 5 minutes or until the cheese is browned and the dish is warmed through, or until there is a commercial break from Rock of Love Charm School.
~Serve warm and eat in your pjs, on the couch, watching Brandi C cry for the thousandth time.