Mmmm. Clam chowder. We only eat this dish once in a while but I had been having a craving for it lately. Now, I have never been to the east coast so I am not sure if this tastes like "real" clam chowder is supposed to taste like, but it is not bad. Not bad at all, says the girl that has never been east of Indiana.
The only thing that would have made this dinner any better was a nice crusty loaf of sourdough and a glass of white wine. I had neither so there might be a tear floating in my clam chowder.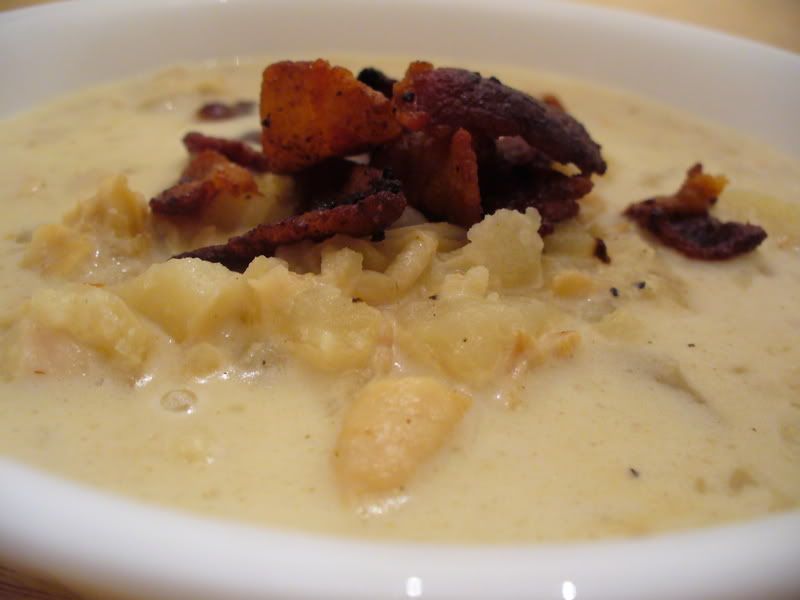 Ingredients:
2 6-1/2-ounce cans minced clams
4 slices bacon, halved
2-1/2 cups chopped, peeled potato (3 medium)
1 cup chopped onion (1 large), I used 2 large shallots
1 teaspoon instant chicken bouillon granules
1 teaspoon Worcestershire sauce
1/4 teaspoon dried thyme, crushed
1/8 teaspoon black pepper
2 cups milk
1 cup half-and-half or light cream
2 tablespoons all-purpose flour
Directions:
~Drain canned clams, reserving juice. If necessary, add enough water to reserved clam juice to equal 1 cup. Set juice aside.
~In a large saucepan cook bacon until crisp. Remove bacon, reserving 1 tablespoon drippings in pan. Drain bacon on paper towels; crumble bacon and set aside.
~Stir reserved 1 cup clam juice, potato, onion, bouillon granules, Worcestershire sauce, thyme, and pepper into saucepan. Bring to boiling; reduce heat. Simmer, covered, about 15 minutes or until potatoes are tender. With the back of a fork, mash potatoes slightly against the side of the pan.

~Stir together milk, half-and-half, and flour; add to potato mixture. Cook and stir until slightly thickened and bubbly. Stir in clams. Return to boiling; reduce heat. Cook for 1 to 2 minutes more or until heated through. Sprinkle each serving with crumbled bacon.
recipe modified from: Better Homes and Gardens