A great side dish for the BBQ Pork Steak is this vegetable rice medley I saw in
Kraft Food and Family Magazine
. I have been getting the KFFM since 2005 but I have never really found all that many recipes that I like. They also recently switched formats for the magazine and I have found they rely too much on processed and boxed foods.
But the older magazines do have some good easy recipes, like this one. This recipe appeared in the
Winter 2006 KFFM
. This rice dish is easy to make, fast and flavorful. Also the picture in the KFFM is so pretty, that is the real reason I decided to make it. (The picture on the website is not the same as the one in the original magazine, so I was not seduced by that one. Even my picture is not as pretty as the original.)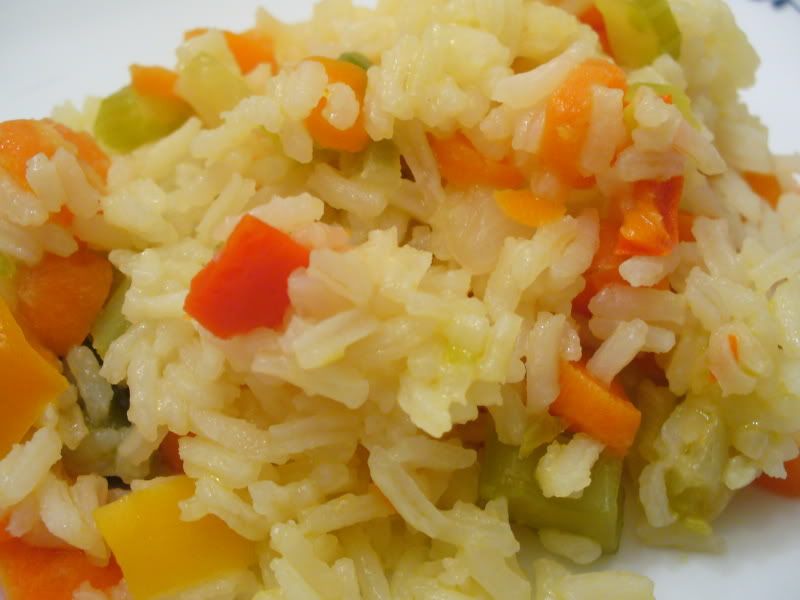 Ingredients
:
1 Tbsp. canola oil
1 cup chopped onions (about 1 medium)
1/2 cup chopped carrots (about 1 medium)
1/2 cup chopped celery (about 1 stalk)
1/2 cup chopped red peppers
1 can fat-free reduced-sodium chicken broth
1-1/2 cups white rice, uncooked,
I used Jasmine rice since that is all I had on hand
1 cup frozen peas,
I omitted the peas

Directions:
~Heat oil in nonstick skillet. Add onions, carrots, celery and peppers; cook 5 min. or until tender.
~Add broth; bring to boil.
~Stir rice and peas; cover. Simmer 5 min. Remove from heat. Let stand 5 min. before serving.
recipe by: Kraft Food and Family Magazine, Winter 2006