I had a craving for chocolate the other day and was bored as well and decided to make a layer cake. The Good Husband is a sheet cake fan, while I love the tall stuff. If you haven't figured it out already, TGH and I are actually polar opposites in most things.
So the journey of cake making began. The actual cake part was the easiest. It was the frosting of the cake that proved challenging and thus the reason I produced the ugliest cake in the world. Please don't turn me into
Cake Wrecks
.
I wasn't able to produce an actual butter cream frosting since it has eggs in it and for the meantime eggs are out of my diet. This frosting is just butter and coco powder and powdered sugar. I wasn't too impressed with it. It was far too sweet for me and not chocolate-y enough. But TGH ate the rest of the cake so it couldn't have been THAT bad.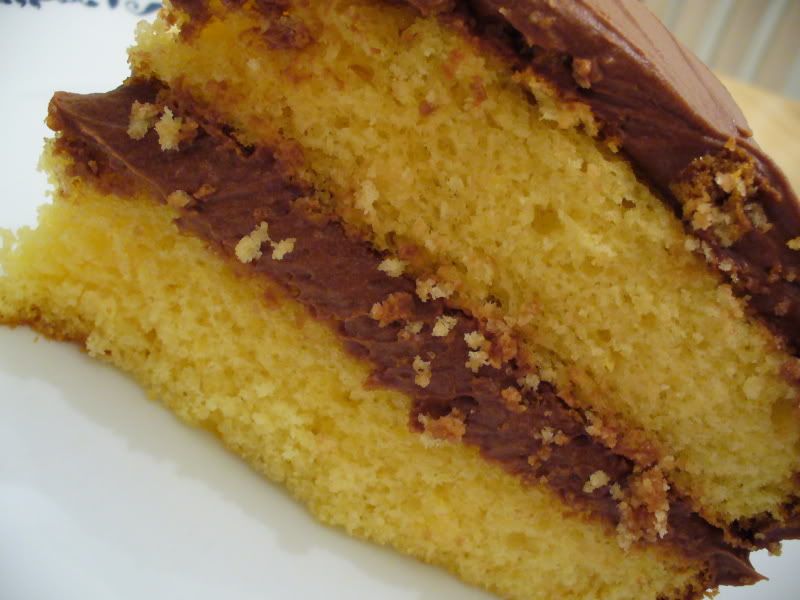 Yellow Cake
Ingredients:
2-1/2 cups all-purpose flour
2-1/2 teaspoons baking powder
1/2 teaspoon salt
2/3 cup butter or margarine
1-3/4 cups sugar
1-1/2 teaspoons vanilla
2 eggs
1-1/4 cups milk
Directions
:
~Grease and lightly flour two 9x1-1/2-inch round baking pans; set pan(s) aside. Combine flour, baking powder, and salt; set aside.
~In a large mixing bowl beat butter or margarine with an electric mixer on medium to high speed for 30 seconds. Add sugar and vanilla; beat until well combined. Add eggs, one at a time, beating 1 minute after each. Add dry mixture and milk alternately to beaten mixture, beating on low speed after each addition just till combined. Pour batter into the prepared pans.
~Bake in a 375 degree F oven for 30 to 35 minutes or until a wooden toothpick comes out clean. Cool layer cakes in pans on wire racks for 10 minutes. Remove layer cakes from pans. Cool thoroughly on racks.
~Frost with desired frosting. Makes 12 servings.
Chocolate Butter Frosting

Ingredients
:
1/3 cup butter or margarine
4-1/2 cups sifted powdered sugar
1/4 cup milk
1-1/2 teaspoons vanilla
1/4 cup coco powder
Milk
Directions:
~In a mixing bowl beat butter until fluffy. Gradually add 2 cups of the powdered sugar, beating well. Add coco powder. Slowly beat in the 1/4 cup milk and vanilla.
~Slowly beat in remaining powdered sugar. Beat in additional milk, if needed, to reach spreading consistency. If desired, tint with food coloring. This frosts tops and sides of two 8- or 9-inch layers.
recipes by:
Better Homes and Gardens