This was dish 2 of 3 I made for our Memorial Day cookout. Again, it was the first time I had ever made this dish (a big hosting no-no) and you can certainly tell that it was my first attempt. I mean, have you ever seen pink coleslaw before?
No, I am sure you haven't. That's because the people that know how to make it, know how to make it not turn pink. I think my problem was that I added equal portions of both red and green cabbage to the mix. If I had stuck to a 2:1 or even a 3:1 ration of green to red cabbage, I could have avoided this pigmentation problem.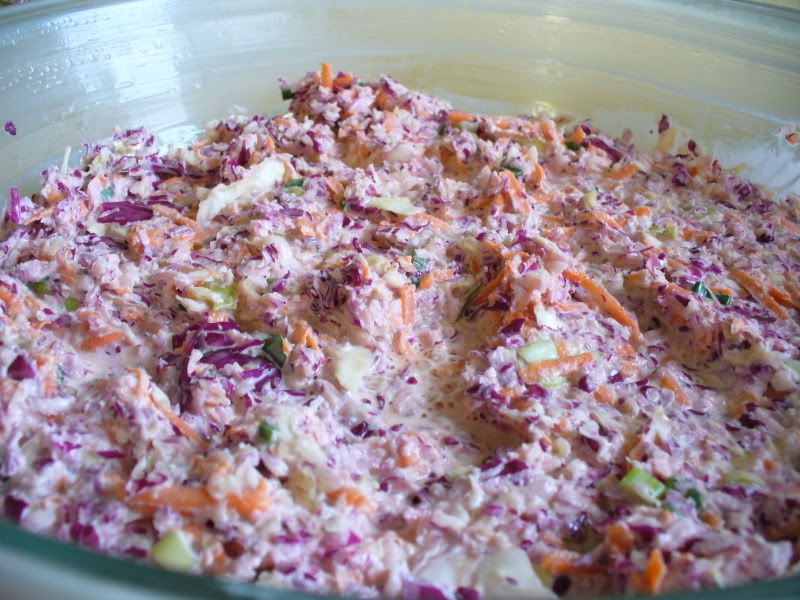 But it tasted fine despite the unique color. I will have to prefect this dish.
Ingredients:
1 small head green cabbage, shredded
1 small head red cabbage, shredded
4 large carrots, shredded
1 cup mayonnaise
4 scallions, chopped
2 teaspoons cider vinegar
1/4 teaspoon Worcestershire sauce
1/4 teaspoon salt
1/4 teaspoon pepper
1/2 teaspoon sugar
Directions:
~Combine the cabbage and carrots in a large serving bowl.
~Combine the remaining ingredients in a small bowl and whisk to combine. Pour dressing over cabbage mixture and toss to combine. Refrigerate until ready to serve.
recipe modified from: The Joy of Cooking