Does this count as roasted chicken on my
List of 100 Foods I Want to Make
? I mean a cornish hen is like a small chicken and I cooked it the same way that I would cook a normal sized chicken? Quite the quandary.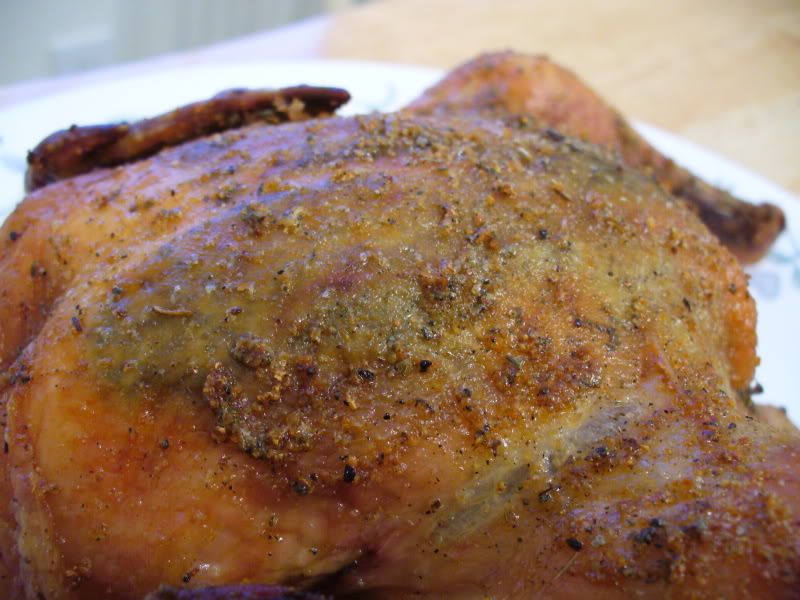 Roasting a chicken, or in this case, cornish hen is really more about technique than anything else. You can change the flavors every time but there are four basic things you will need to roast a chicken - 1. A fat, like oil or butter; 2. Seasonings - herbs and/or spices; 3. Salt; 4. Pepper. Measurements are not really that important; just choose any combination of herbs and spices and the amount you want and you really can't go wrong.
The trick to a really flavorful chicken is to season the chicken on the inside and out. Rub the inside of the bird with all four ingredients and rub a hearty amount under the skin of the bird. To loosen the skin of the bird, start at the tail end and gently work your fingers under the skin, between the skin and the meat. You should be able to loosen all of the skin on the breast of the chicken.
Next roast the chicken at 425 degrees for 20 minutes for every pound or until a meat thermometer inserted into the thickest part of the bird reads 180 degrees.
Ingredients:
Cornish Hen
Canola Oil (probably about 1/2 cup)
Crushed garlic (3-4 cloves)
Rosemary (2 bunches, chopped)
Thyme
Poultry Seasoning
Rubbed Sage
Lemon Pepper
Salt
Pepper
Lemon Juice
Directions:
~Squeeze lemon juice on both the outside of the bird as well as in the cavity.
~Combine the remaining ingredients and rub generously on the outside, under the skin of the bird and in the cavity.
~Roast the bird, breast side up, at 425 for 20 minutes for every pound or until a meat thermometer reads 180 degrees. Allow the bird to rest for 10 to 15 minutes before carving.
recipe by: The Good Wife