For the asparagus I recieved in my CSA box, I was torn between this recipe and beer battered asparagus. This won out (I don't want to get The Good Baby drunk, you know) and I will say that it was mighty tasty.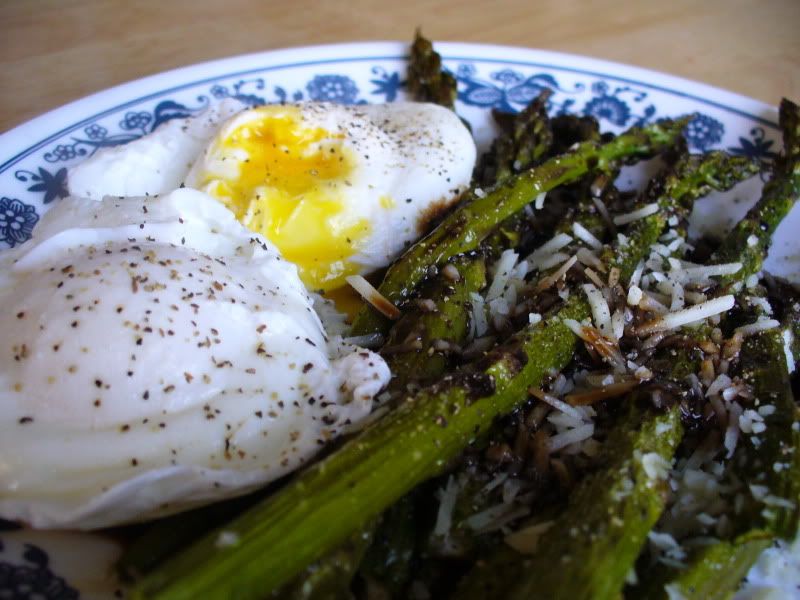 I have never made poached eggs before and honestly I was a little intimated by them. But after following the directions in the recipe to a tee and double checking with my Joy of Cooking, I was able to produce two decent poached eggs. One egg was a little more done than I would have liked but the other one was near perfection.
Everything in this meal, from the balasmic reduction to the Parmesan cheese was simple and perfect. All around a nice dinner.
Ingredients:

1 medium thick asparagus bunch, tough ends removed
2 tablespoons olive oil
Coarse salt
1/2 cup balsamic vinegar
1 teaspoon light-brown sugar
1 tablespoon cider vinegar
4 large eggs
2 ounces shaved parmesan
Directions:

~Preheat oven to 400 degrees. On a baking sheet with a rim, toss asparagus with oil. Season with salt. Bake until asparagus is lightly browned and tender, 15 to 18 minutes (timing will vary depending upon thickness of asparagus).
~In a small saucepan, cook balsamic vinegar and sugar over medium-high heat until syrupy and reduced to 3 tablespoons, about 6 minutes.
~Meanwhile, bring a large skillet with 2 inches of water to a simmer over medium heat. Add cider vinegar and season with salt. Break one egg at a time into a cup, then tip cup into pan. Simmer until whites are set and yolks are soft but slightly set, about 3 minutes. With a slotted spatula, scoop out eggs one at a time and drain on paper towels. With a paring knife, trim edges.
~Divide asparagus among four plates and drizzle with reduced balsamic. Top with shaved Parmesan and an egg.
recipe by:
Martha Stewart