I was bored in the kitchen the other day. I wanted bread and I wanted bacon. I knew I would eat an entire loaf of bread and a pound of bacon, and even though I need 500 extra calories since I am nursing, I am not so sure all of that should "bad" calories.
So I decided to make this little recipe. It combined my need for bacon and bread and was super easy.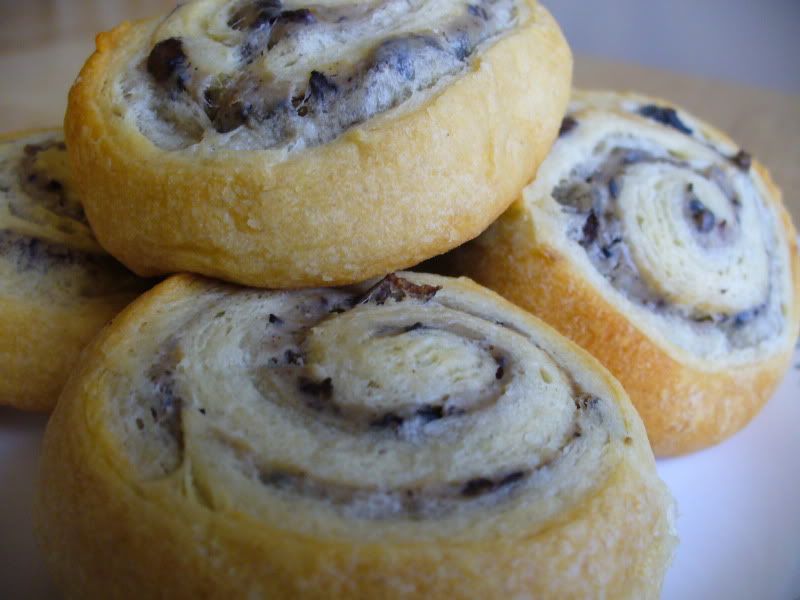 Ingredients:
1 package crescent rolls
6 strips of bacon
10-12 baby portabella mushrooms, chopped
6 ounces cream cheese, softened
1/2 tablespoon sour cream
1 teaspoon ground thyme
1/2 teaspoon rosemary
1/4 teaspoon sage
salt and pepper
Directions:
~Unroll the crescent dough and form into 4 rectangles, pinching the seams together.
~Chop the bacon and fry in a pan over medium high heat until brown and crispy. Remove the bacon with a slotted spoon, reserving the fat. Add the chopped mushrooms and cook until browned. Remove from heat and allow to cool to room temperature.
~In a small bowl, combine the cream cheese, sour cream, thyme, rosemary, sage and salt and pepper. Using a whisk or hand mixer, blend until combined. Add the bacon and mushrooms.
~Spread a thin layer on each of the four rectangles, about one fourth of an inch away from the sides. Roll up the rectangle from the short side, pinch to close and slice into one half inch thick slices.
~Bake at 350 for 12-14 minutes or until golden brown
recipe by: The Good Wife