I have been craving some Mexican food lately and my latest trip to the farmer's market yielded some fresh corn and tomatoes. So I figured salsa was the easiest thing to do with the corn.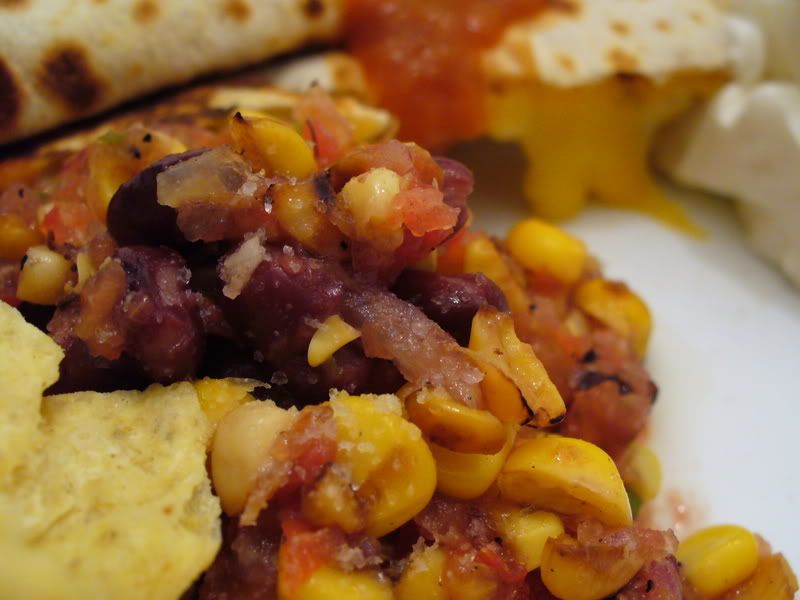 Ingredients:
3 ears corn in the husk
1 can black beans, drained
1 fresh jalapeno chile, peeled, seeded, and finely chopped
3 large tomatoes, seeded, peeled and chopped
¼ cup fresh cilantro, chopped
½ small red onion, finely chopped 3 cloves garlic, minced
Juice from 1 large lime
1 teaspoon of sugar
Salt and ground black pepper to taste
Directions:
~Remove husks and silk from corn. Cut the kernels off the cob. Char the corn in a large cast iron skillet over medium high heat with one tablespoon oil, until the corn is warmed through and the edges are slightly blackened. Remove from heat an allow to cool.
~Place the remaining ingredients, except the black beans, in a food processor and chop to the desired size. I processed the ingredients rather finely.
~Combine the corn, black beans and the tomato mixture. Cover and let stand for one hour or overnight for the flavors to marry.
recipe by: The Good Wife