This recipe I stumbled upon by accident. It was supposed to be
Boeuf Bourguignon
, but I couldn't find pearl onions and The Good Husband is not a fan of cooking with wine. So after a few modifications I came up with what I call beef and noodles. My two main beefs (yes, I meant that) with the original (excluding the wine) were - the sauce was too runny and there was way too much fat in the recipe, by way of butter or oil or both. I think I cut out nearly most of the butter. So I thickened up the sauce and got rid of some of the fat. In the end, this is a pretty good recipe and easy to make. TGH is now a fan.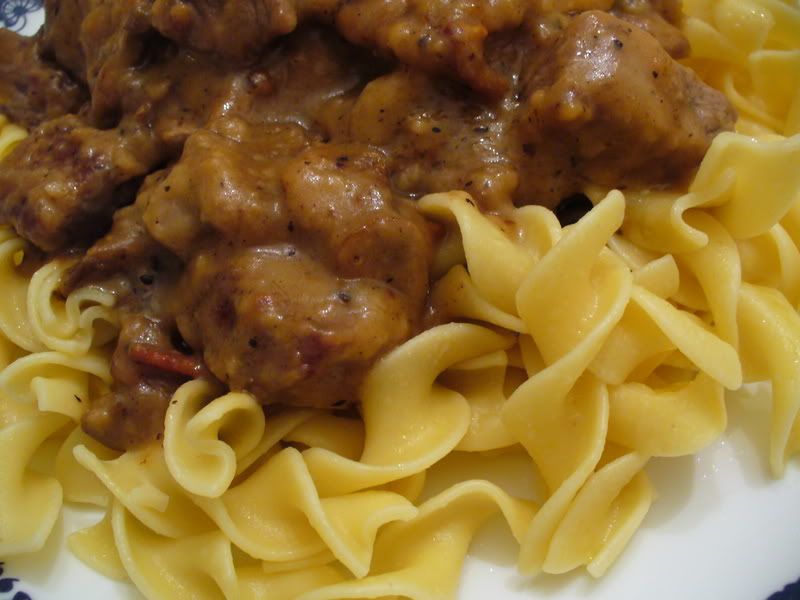 Ingredients
:
3 slices bacon, chopped
16 white mushrooms, thinly sliced
1/2 cup white onion, chopped
2 pounds lean sirloin, 1-inch thick, trimmed and cubed into 1 inch pieces
3 tablespoons all-purpose flour
1 1/2 cups beef stock
3 sprigs each sage and fresh thyme, chopped
Herbed, Buttered Noodles
:
12 ounces wide egg noodles, cooked to package directions
2 tablespoons unsalted butter, cut into small pieces
1/4 cup chopped fresh parsley leaves
12 blades fresh chives, finely chopped
Directions
:
~Heat a large skillet over medium high heat.
~Add bacon to the pan and brown. Remove crisp bacon bits with slotted spoon. Add mushrooms to the pan and turn to coat evenly with bacon drippings (you might have to add up to 2 tablespoons of oil to coat the mushrooms). Season with salt and pepper. Saute mushrooms 2 to 3 minutes and add onions to the pan. Continue cooking onions and mushrooms 2 to 3 minutes longer, then transfer to a plate and return pan to the heat.
~While the mushrooms and onions cook, coat the beef cubes in flour. Add meat to the pan and cook for 10 minutes, turning the meat once.
~Add one tablespoon of butter and one tablespoon of flour to the pot. Allow the butter to melt and the flour to cook, turning the meat in the butter and flour. Add the stock and fresh sage and thyme, making sure to scrape all the browned bits off the bottom the of pot. When the liquid boils, reduce heat to medium and cook covered 5 minutes. Remove lid and add mushrooms, onions and bacon back to the pot. Simmer with the cover off until sauce thickens.

~Toss hot egg noodles with butter and herbs. Place a bed of noodles in a shallow bowl and pour beef burgundy over the noodles and serve.