Since two of the things I bought at the Farmer's Market were bread and candied pecans, I thought what better way to combine them than to make stuffed French Toast. Now, I have never had stuffed French Toast, but I had always seen it on IHOP commericals and thought that it looked tasty and easy to make so I tried it.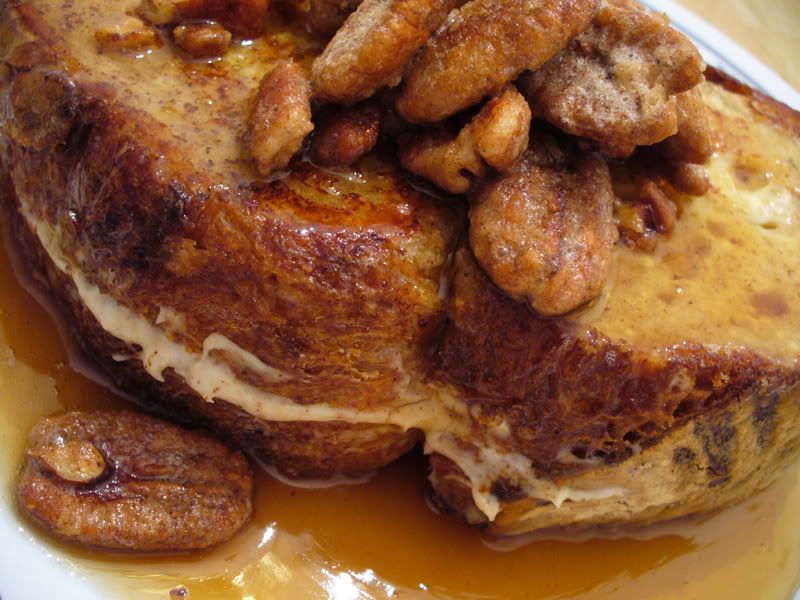 Ingredients:
3 oz cream cheese softened
½ teaspoon vanilla extract
½ teaspoon cinnamon
¼ teaspoon nutmeg
1 1 ½ inch thick sliced bread, I used Country French bread I got at the local Farmer's Market
1 egg
½ cup milk
dash cinnamon
dash nutmeg
2 tablespoon butter
¼ cup candied pecans

Directions:
~Combine cream cheese, vanilla, cinnamon and nutmeg in a small bowl. Mix to combine. Spoon cream cheese mixture into a ziplock bag, pushing the mixture into one corner. Cut one corner of the bag to form a pastry bag. You could also use a small pastry bag with a small tip.

~Cut a slit in the top of the bread. Gently insert the pastry bag and slowly fill the bread with the cream cheese mixture.

~In a shallow bowl combine the egg and milk. Add a dash each, cinnamon and nutmeg.

~Dip the bread into the egg mixture, letting it sit for about 10 seconds on each side, allowing for the mixture to be absorbed.

~Melt 1 tablespoon butter in a skillet over medium heat. Add the bread and brown on both sides, about 5 minutes per side.

~Remove the bread from the skillet. Add 1 tablespoon of butter and allow to melt. Add the candied pecans and toss in the butter. Top the bread with the pecan mixture.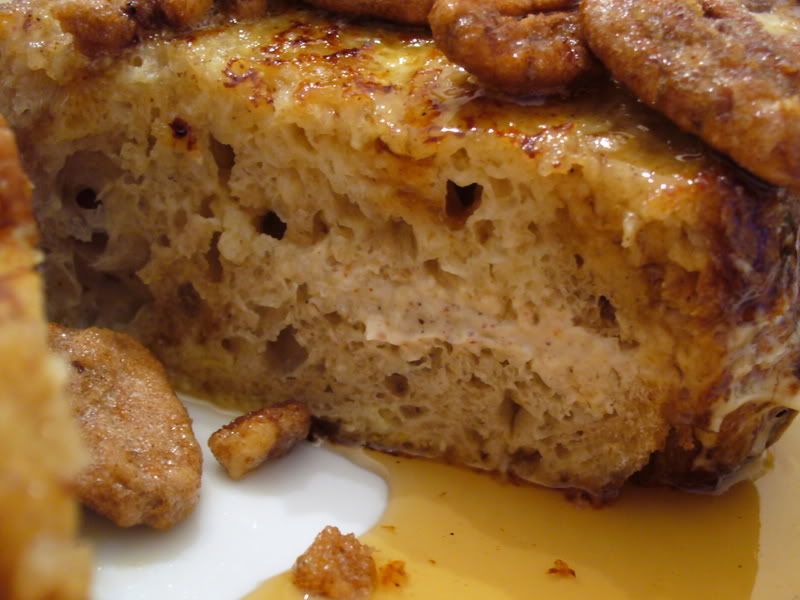 Overall, it wasn't bad. The bread didn't hold that much cream cheese so what I think I will do next time is use two thinner slices of bread and make a sandwhich out of them, scooping out some of the bread to make more room for the cream cheese. But it was a yummy treat on a lazy Sunday morning.
recipe by: The Good Wife