Since The Good Husband loves peaches and I bought some nice Calhoun peaches at the Farmer's Market, I thought I would make a pie. I love making pies but I always make kinds I don't like to eat. Something about making the dough and crimping it and b
rowning
the crust are fun to me. Here is how the pie looked out of the oven.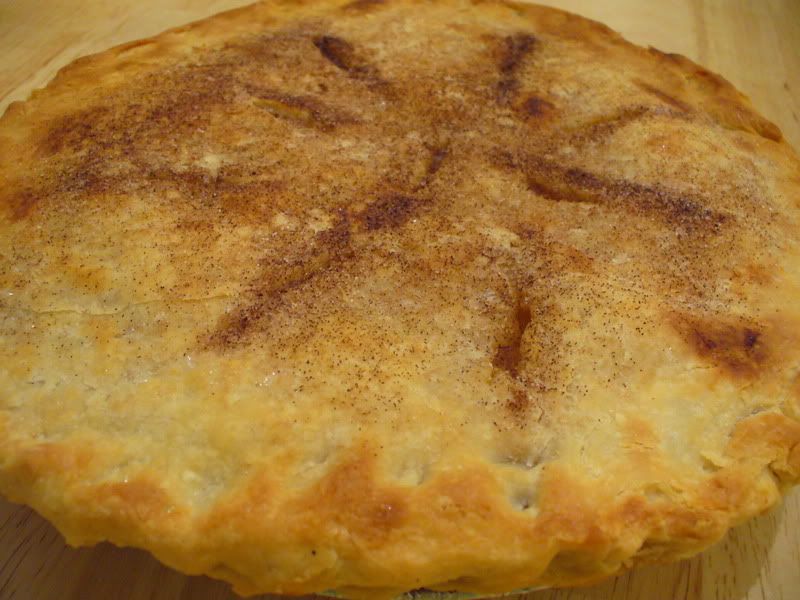 Looks nice, doesn't it? Well don't be fooled by this peach
Trojan
Horse. I knew something had gone horribly wrong when the pie slice I placed on the plate, flattened and sort of spread out.
That's
when I knew: I didn't cook the bottom crust before I filled the pie. What a stupid mistake and I knew that as I was filling the unbaked pie crust with peach filling, something didn't seem right.
But I couldn't throw the pie away. After all, I used Calhoun peaches, the gold standard of peaches 'round here. It would be such a waste, and I would cry. I didn't feel like crying. I felt like a doctor. 'This pie can be saved', I told myself. 'After all, the top crust is just fine and it did look so pretty.'
So, I decrusted the pie. I removed the top crust; baked it in the oven for 15 minutes just to make sure it was cooked. I then scooped out the peach filling, careful not to scoop out the dough as well. I put the peach filling into a new pie pan and retopped it with the crust. That when into the oven again for 15 minutes.
The end result looks like this:
It's a shame I don't eat peach pie because I worked so hard on this that it would be
awesome
if it tasted great despite me almost ruining it.
TGH
will now have to eat this and wonder how a two crust pie now only has one. But I think it will taste the same and lesson learned: I need to work on my baking skills